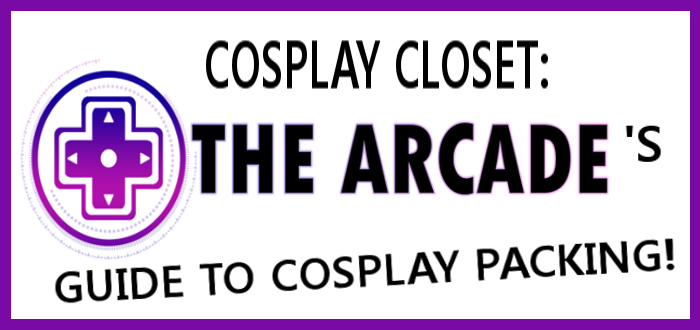 Cosplay Closet: Packing For DCC 2016!
With Dublin Comic Con right around the corner, some of us cosplayers are bound to still be in the dreaded 'Con Crunch', whether it's trying to finish a cosplay in time or just gathering some last minute supplies. So, we here at The Arcade decided to help all you stragglers and even you, the cosplayer extraordinaire, with a handy checklist for all your cosplay packing needs!
You might not realise it, but for the locals only travelling into the city on the day of the con, you should still consider the following list and remember what you personally need to bring with you. Everyone's needs will be different and so only some things might apply for you.
Whether you pre-registered or not, it's always a good idea to have some form of photographic ID with you at big events such as DCC.
It's always important to stay hydrated, and with weather reports showing signs of a warm and sunny weekend, keeping cool and hydrated is definitely essential and that's before you consider temperatures inside the venue and your costume!
Cash and/or credit cards
An extra tote bag for lugging home all your new nerdy loot
Small first aid items – plasters, painkillers, allergy medication, etc
Notebook and pens/pencils
A portable phone charger
2DS, 3DS, PSVita, other handheld gaming systems
For those planning on cosplaying at the event, there is a lot more to plan and organise, especially if you have more than one costume. For your con bag you should consider the following:
Travel friendly makeup essentials for touch ups during the day – powder, lipstick, eyeliner, etc
Cosplay maintenance and repair for on the go – safety pins, tiny hand sewing kit, super glue, etc
If you are travelling into the city and staying in a hotel for the duration of the con, packing can get overwhelming. We definitely recommend writing out a list of every piece of your cosplay before packing, this will help you keep track and guarantee nothing gets left behind. We'd also advise that if you are travelling with multiple cosplays, that to make organisation easier for yourself you should try to pack each cosplay in a separate bag. After all, you don't want to mix up Harley Quinn with Tifa Lockhart!
Transporting heavily styled wigs or armour can be both a pain and dangerous. Either can get misshapen or even broken if not packed delicately. We've found it's best to travel with your wigs securely pinned to polystyrene wig heads. Some cosplayers have even built custom wig head stands for transporting more than one at a time that fit snugly into their car! Other's also recommend those handy Build A Bear carrying boxes depending on whether you wig will fit. Good luck trying to fit your Team Rocket Jessie wig into one of those!
As for your armour, it is best to pack all the pieces into sturdy plastic bins. This will cut down on the likelihood that something could get crushed or smushed in your suitcase. It's also a good idea to wrap delicate pieces of your cosplay or props in towels or other soft material before packing them.
As well as your overnight necessities, some other items to keep stashed in your room could be:
Your cosplay makeup arsenal
Contact lenses/case/solution
Hot glue gun and glue sticks
Laptop and charger
Any valuables you don't want to have on you while you're on the convention floor
Hairspray
Extra wig caps
Bobby pins/hair pins
Normal and double-sided tape
With the stress of con crunch and packing it's easy to forget one of the most important thing; you're doing this for fun!
So in the end, if you've followed all our steps, checked off everything you need, and you still forget something, just live and let live! C'est la vie! I'm sure no one will even notice that missing Sailor Moon tiara or false eyelashes!
But nevertheless, we hope to see you all this weekend at Dublin Comic Con 2016!
Just perpetually screaming about fictional boys