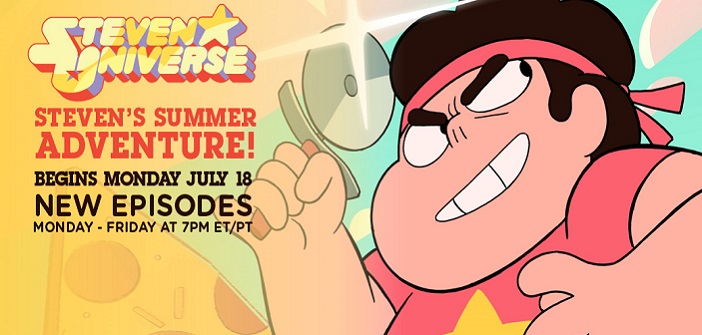 CN Releases Previews for Steven Universe Season 3
The following contains major spoilers for unreleased episodes of Steven Universe. Please read at your own discretion.
Steven Universe is returning to television screens on July 18th. There will be new episodes airing every weekday for the remainder of the summer. However, Cartoon Network has given us some sneak previews into some of the content we can be expecting during Steven's Summer Adventures.
Mr. Greg
The show has always been famous for its music hits such as "Stronger Than You." However, Rebecca Sugar, show creator, had previously confirmed a full musical episode. Well, recent previews show that it's almost here in the form of "Mr. Greg." This episode will be airing July 19th (instead of "Too Short To Ride" as was previously thought).
The episode will involve Greg, Steven and Pearl living the life of luxury in Empire City. The two-minute promo clip from the episode shows the trio checking into a fancy hotel before breaking into song. Yet, despite the festivities, Pearl appears to be on edge, refusing Greg's request to dance with her towards the end. Perhaps this episode won't be as lighthearted as the concept would have you imagine but we may wait and see.
Bismuth
However, Cartoon Network released another promo that has many fans reeling. It appears that after much speculation, Bismuth was finally confirmed and introduced. But not only is she a character, she's a Crystal Gem!
Bismuth, voiced by Orange is the New Black star Uzo Aduba, appears to have been asleep since the war. She quickly reunites with her gem companions before asking for the rest of them. Pearl then has to break the news to her that they are the only Crystal Gems left: the rest of the rebellion fell in battle.
Bismuth will appear in an eponymous 22 minute special towards the end of August. There will no doubt be much more information revealed in the special so fans have much to look forward to. If the previews so far are anything to go by, Steven's Summer Adventure will be a wild ride.
Writer, artist, perpetual holder of notions.