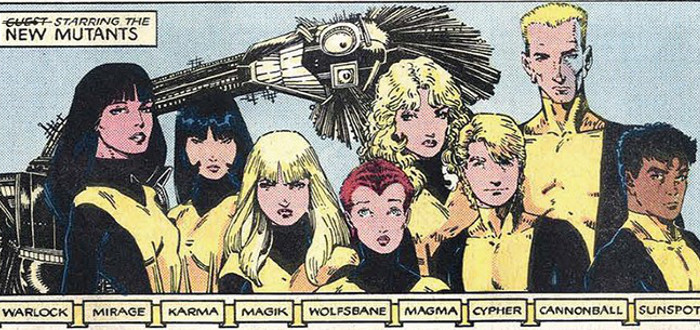 Josh Boone's New Mutants Cast Rumored To Be Taking Shape
UPDATE: Fox have responded to Nerdist's request for comment on the rumors by simply stating they are "not true".
ORIGINAL STORY:
The future of the X-Men movie franchise is taking shape as Josh Boone's upcoming New Mutants movie has begun forming its cast, HitFix reports.
The most notable addition is that of Game of Thrones and Doctor Who alum Maisie Williams, who is reportedly cast as Wolfsbane. A mainstay in the '80s comic book series, Wolfsbane is a Scottish girl who can transform into a werewolf at will. Did we mention, by the way, that there are a TON of very cool X-Men characters the movies have never touched?
Williams is to be joined by Ana Taylor-Joy, of recent The Witch fame, who has been reportedly cast as Magik, sister of well-established onscreen mutant Colossus. Magik has the power to transport things to-and-from Limbo to any point on Earth.
Of the existing X-movies, both James McAvoy and Alexandra Shipp have apparently signed on to reprise their roles as Professor Xavier and Storm, respectively. The New Mutants are led by Professor X in the comics, so it gives real strength to the film as a sequel to make that crossover as prominent as possible.
HitFix revealed that the rest of the team, most of which haven't been cast, will be the main team Chris Claremont used for his New Mutants run. So, Cypher, Karma, Mirage, Sunspot, Cannonball, Warlock and Magma will make up the rest of the team, or some amount thereof.
From the sounds of this report, it looks like Fox may be moving away from Bryan Singer's vision of X-Men and using Josh Boone's New Mutants as the flagship for the series. With so much after changing for comic book movies since X-Men hit the big screen, it makes sense to change up the approach and bring in new creative voices to do it. Boone has proven his directing abilities with the very successful The Fault In Our Stars, and if this report turns out to be true, he's begun to assemble a strong, respected cast for the franchise.
The latest X-Men film, X-Men: Apocalypse, is due in cinemas May 27.