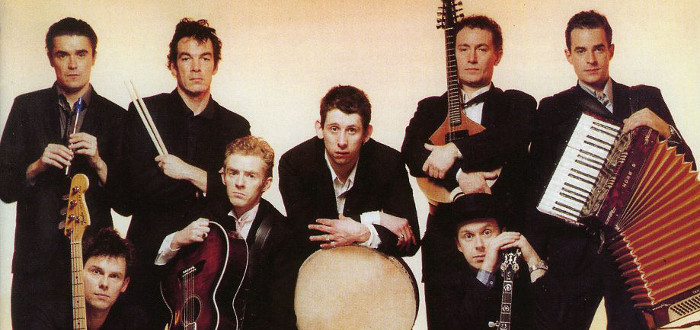 Up The Irish – Music Monday
It may surprise you, but Ireland has more musical exports than U2, The Script and Thin Lizzy. Shocking, right!? Sarcasm aside, for such a small island, Ireland has a strong history of providing bands that are at least of the "decent" variety. Even without Irish trad, our contribution to music is, frankly, rather impressive given our meagre size and stature. That said, even with Irish trad, that contribution doesn't become all that much better. Given that St. Patrick's Day is upon us, here's a wee stroll through the meadows of Ireland's musical happenings.
Christy Moore – 'Smoke And Strong Whiskey'
Getting the obvious out of the way – Christy Moore is a bloody legend. The folk singer has become inseparable from modern Irish identity by being the first, and usually only, Irish trad song-writer everyone on the isle has heard of. I'm fairly certain Ireland-born children come with the name "Christy Moore" just written into their DNA at this stage. Whether you've heard him before or not, 'Smoke And Strong Whiskey' is just about everything you need to know about the man: he sings about Ireland with an acoustic guitar, and he does it really well.
The Radiators From Space – 'Enemies'
One of the original Irish punk bands, The Radiators From Space are outshined when it comes to the late-'70s new wave and punk scenes. Sharing the spotlight with the likes of The Boomtown Rats, Talking Heads, The Pretenders, Blondie and Devo, The Radiators are often overlooked when it comes to punk and its immediate sibling, post-punk, in favour of their more commercially successful peers. Nonetheless, their first album TV Tube Heart is a fine slice of tired frustration that is worth remembering.
The Pogues – 'Streets Of Sorrow/Birmingham Six'
We're all aware of Shane MacGowan and how he's become our national town drunk, God love him. The Pogues need no introduction, but yet very little of their actual music makes the airwaves beside 'Fairytale Of New York' – which, to be fair, is hardly the worst tune to become synonymous with. From that same album, If I Should Fall From Grace With God, 'Streets Of Sorrow/Birmingham Six' is much more emblematic of the caustic rebellion that made the band such a resounding success. Starting out in ballad before ripping into some celtic-inspired punk, 'Streets' is the musical equivalent of a well proportioned Irish coffee.
Otherkin – 'Ay Ay'
Stepping forward a little, Otherkin are a contemporary Irish act currently making some headlines for themselves. Take The Hives, The Strokes and a little bit of The Rolling Stones and you'll be in the right neighbourhood of Otherkin's loud, distorted rock delivery. Set for this year's Longitude festival, among headline shows in Whelan's in Dublin along the way, it might be worth putting Otherkin on the iPod now for the teatime chats in work.
U2 – 'Hold Me, Thrill Me, Kiss Me, Kill Me'
Just say Bo-NO. All jokes aside, U2 are hardly what one would call "Edge-y", despite having personnel to the contrary. But that doesn't mean the arena rock superstars haven't produced some immaculate stompers that sit well in any "Best Of" playlist. Indeed, with Batman V Superman coming up, here's a reminder of the time U2 penned a song for a Batman film and it was, and still is, a grand accompaniment to the caped crusader. The transition from the verse to the chorus on this one gets me every time. Good song-writing is good song-writing!
Ed Sheeran – 'I See Fire'
The SHEER success of this lad makes him worth highlighting. Okay, okay, I'm sorry. Ed Sheeran isn't someone to laugh at or mock, he's a more than adequate ambassador of Irish music and culture, himself being a worthy representation of what can come from working toward a dream consistently until it pays off. 'I See Fire' was written for and released as promotion for The Hobbit movies, which speaks volumes about the kind of career Sheeran has had. It's one of his best to boot.
The Dubliners – 'The Old Man'
What better band to end a Irish playlist with than The Dubliners? Another band who, like The Pogues up above, are much more famous in name than in actual music, The Dubliners as Irish folk as it gets. Telling stories of war, poverty and hardship, The Dubliners now are like an audio relic of smoky pubs and an everyday life filled with resentment and an uncertain future. Themes not altogether unfamiliar from now, but with less army enlisting and more yearning for livable wages and reliable public transport. "I'm not sure how to change things, but by Christ we'll have to try" – and by Christ we're still trying.