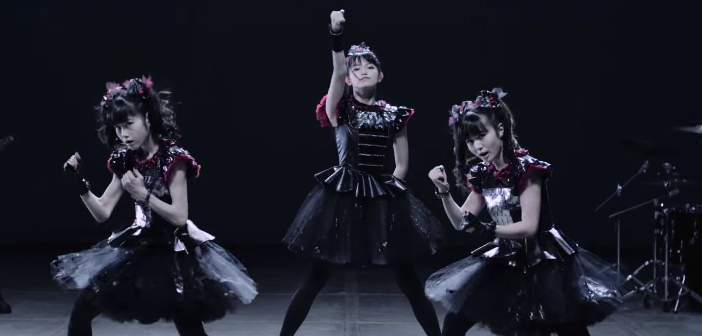 Babymetal Unveil Trailer For Next Album
Has it really been a few years since we were introduced to the wonderful noise of Babymetal? Indeed it has, and the time has come for a new album.
Metal Resistance releases on April 1st, and the band has released a trailer for it along with the album's debut single 'Karate' featuring loudly and proudly.
'Karate' premiered on Annie Mac's Radio 1 show in the UK, where the trio have built up quite the following – to the point of launching their world tour for Metal Resistance at Wembley a day after its release.
Musically, 'Karate' sees the band moving in a more metalcore-inspired direction before, with chugging riffs and a more melodic sound. It's missing some of the obvious trance and electronic elements that were present on previous singles 'Megitsune' and 'Ii Ne!' but there's still subtle touches of them here and there. It's available to listen to on Spotify or download from iTunes.
Overall, the music has moved away from the fast-paced J-pop influenced melodic metal similar to bands like Blood Stain Child and far more towards a Slipknot-esque direction. The great vocals are still intact (actually, stronger than ever) and overall I really like the slower direction they've taken on this track.
I can guff on about the changes all day long but it really comes down to one thing: it's Babymetal. You probably already know if you're going to like it, and I certainly do.
April 1st can't come soon enough.