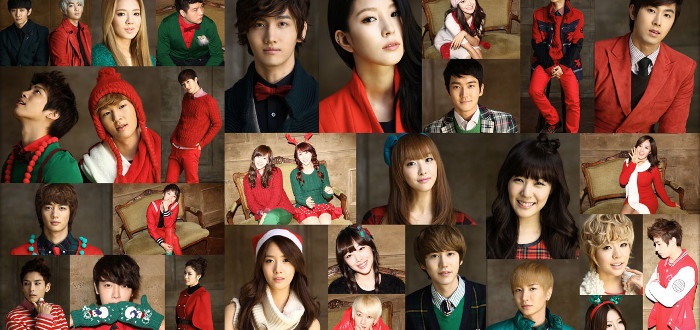 5 Days Of K-Pop Christmas – Day 1
Welcome to Day 1 of our 5 Days of K-pop Christmas!
Christmas in Korea is celebrated a bit differently from what we do in Ireland, a lot of Koreans over the years have told me that Christmas is just a time for couples and children (and involves getting cake!)
But for K-pop fans, Christmas is that wonderful time of year when their idol groups team up with their label mates and make super sweet festive tunes. A lot of the songs deal with love, or being lonely over the holidays, but they're always heartwarming and full of Christmas spirit!
So here are 10 of the best K-pop Christmas songs from recent years (to start you off!)
First up is United Cube's very sweet 'Christmas Song' featuring 4MINUTE, BEAST, G.NA, BTOB, Roh Jihoon, Kim Kiri, Shin Jihoon, A-Pink and Huh Gak.
Two of the top vocalists in Korea, Kim Bum Soo and Park Jung Hyun aka Lena Park, teamed up for this cover of Korean group Mr.2's 'White Winter'.
Girl group BESTie teamed up with comedian Yoo Se Yoon for this funny track 'Zzang Christmas'.
Park Ki-young's Christmas album was her comeback album after she got married, and this sweet song was written by her husband.
Koyote's 'After Winter' starts with an adorable solo from the child actress Kal Sowon. Did I mention how adorable it is? Check out this cuteness!
This next song is from Jellyfish Entertainment and features top vocalist Park Hyo Shin and the prince of ballads, Sung Si Kyung, as well as singer-songwriter Lee Seok Hoon, Seo In Guk and VIXX.
Orange Caramel are known for their catchy, upbeat songs and for this cute Christmas song where they teamed up with boy group Nu'est!
Are you sick of all the lovey dovey stuff yet? Well, here is more anyway! Next up are the artists from Chrome Entertainment – Crayon Pop, K-much, Bob Girls and Zan-Zan. 
Also as a bonus (and because I'm slightly biased) here is another Christmas song from Crayon Pop that is guaranteed to stick in your head!
Do you have any favourite K-pop Christmas songs? Let us know in the comments! Merry Christmas!