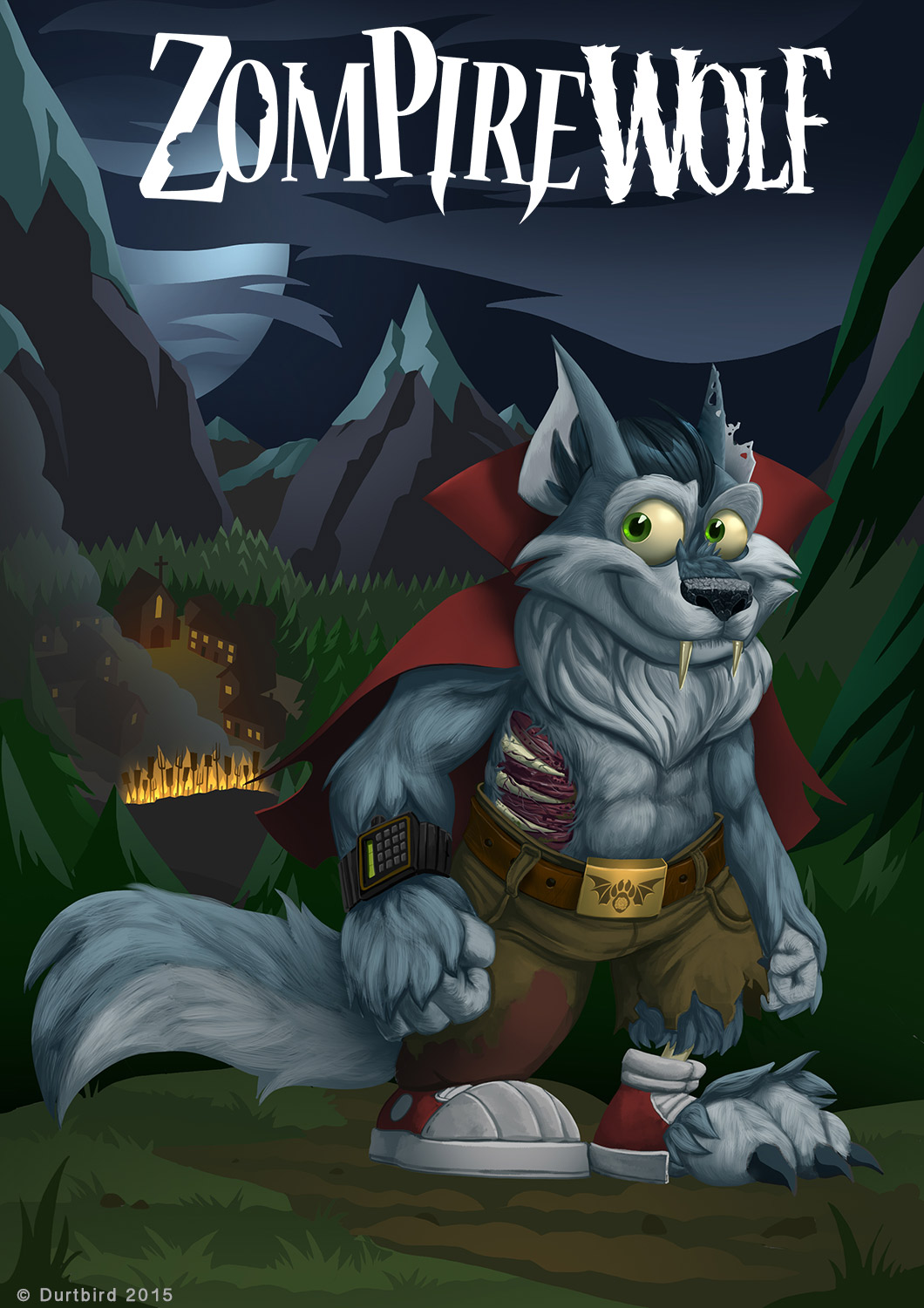 Interview: Zompirewolf – Irish Duo Kickstarting Wicked Success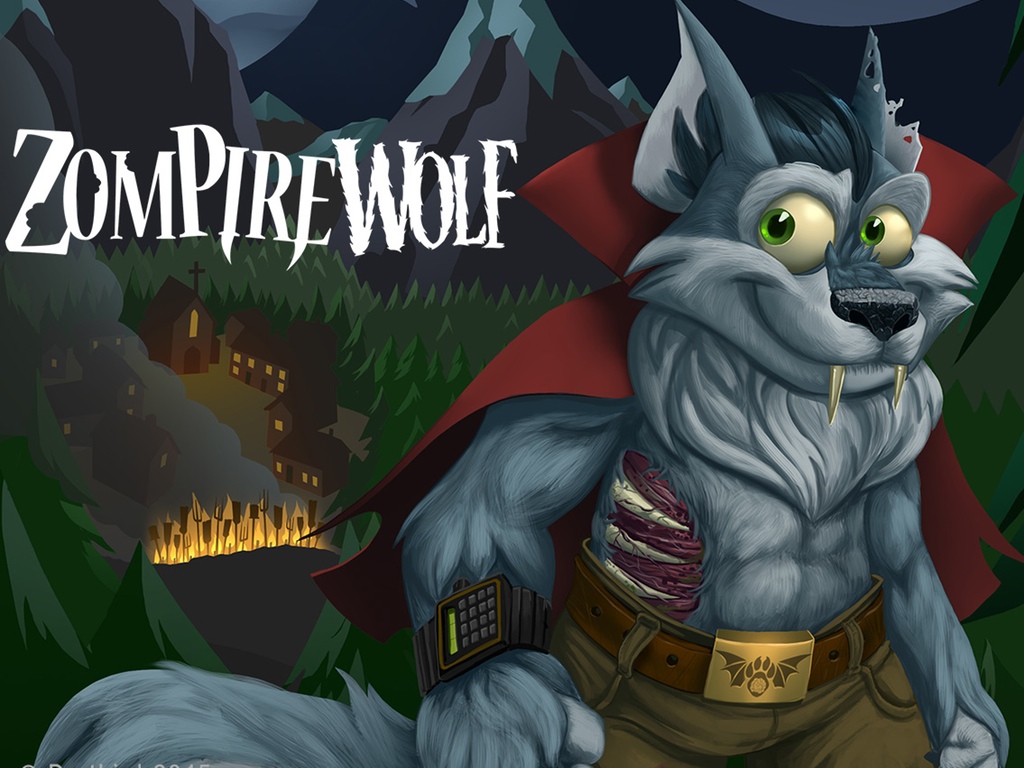 Durtbird Games, founded by Dublin based duo Derek Dillon and Ralph Hosford have created a stir in the mobile game industry with their title ZompireWolf  – a Zombie, Vampire, Werewolf hybrid which is due to be launched shortly.
Taking time out of their schedule I was fortunate enough to meet the pair and chat about the ambitious project.
"The idea really came when I was looking for ways to entertain my nephews in Spain" Derek started, "I would fire out names for games and they had to explain what the game would entail. Maybe I was just entertaining myself!" Derek  explained "At one stage I said, "ZompireWolf" and we chatted about who he was and where he came from.
While we talked about many things that night, there was always something about the potential story of a character called ZompireWolf."
Having met at a party 10 years ago Ralph and Derek became great friends sharing a keen interest in games going all the way back to Ralph's Amiga and Derek's Atari 800XL days.
With over 10 years experience writing, producing and directing for some of Ireland's biggest shows including Republic of Telly, and The Fear, Derek knew exactly where the storyline was going. What he was missing was someone with the game development know – how. That's where Ralph, a developer who has created interactive games and applications came into the picture.
"I'll be over to your house at 11 tomorrow morning" Ralph remembers saying to Derek upon just hearing the name "ZompireWolf. "I was sold on the first sentence, I could see everything, the game, the cartoon… everything"
The wheels were in motion. The notebook that both lovingly called "The Bible" born on the first day is very much still in action. With their ideas now becoming a reality they were now on the look for an artist and a musician to bring ZompireWolf to life.
Irish artist Ciaran Lucas  was brought on as the team's head designer. Derek and Ralph reminisced when they first told Ciaran of the story. "We could see from the excitement in his eyes that he was on board. He told us that we would have something that week and we knew we would get something that evening". The connection was serendipitous. "The colours that Ciaran used, the backdrops, it just worked" Derek mentioned. All three couldn't believe that this character didn't exist before now and looking at the character I couldn't agree more. Ciaran has been able to make this character relatable and instantly lovable, something almost nostalgic. The nostalgia feel is further cemented by the fact that ZompireWolf is sporting a CASIO Calculator Watch. "ZompireWolf is a massive fan of the 80's" Derek smiles "He's 600 years old but to him the 80's is the best decade".
We chatted more about the other elements of the game, particularly something that I immediately warmed to was the music. "We didn't want something generic" Derek stated, instantly expressing his love for good music in a game. "I mentioned the game to Johnny Moy to see if he would know anyone in the music game industry, and Johnny kindly offered as it was something that he had a keen interest in". This is a fantastic addition to the team as Moy is perhaps one of the most celebrated DJ's in the Irish music industry since the 90's mixing records for the likes of U2 and David Holmes.
For every good character, it goes without saying that there has to be a bad guy. Enter 'The Professor'.
"We based his look on one of the nephews which Derek originally talked about the character with," says Ralph. "As you can imagine, he is pretty happy about having a major role in the world of ZompireWolf!".
Another keen point that I had noted before meeting the two was the introduction of  Junior Mode. Ralph went on to mention how his young daughter would spend some time playing with mobile games but would find it incredibly frustrating when constantly having to restart levels as the games would be too fast paced or hard to react to. "Having a game like ZompireWolf has various audiences, you have the children attracted to the look of it and the older generation attracted to the real gameplay but there is a middle group that need to be catered for. The game had to catch their attention and be able to make them feel like their were making progress." Junior Mode was the thing to do this as it allowed for ZompireWolf to be harder to kill and the game to run that bit slower to allow for the slower reaction time. It's surprising that this hasn't been implemented more in games but it is encouraging to see Durtbird games embracing this idea.
Having created the idea and the team, the pair were onto a flying start but the funding was now in the spotlight. Derek and Ralph realised that the amount of money that was needed  exceeded the amount that they had available to them so they started the search for the best platform. Knowing that the bank might have been a non runner they looked into crowdfunding schemes. "I had heard of Indiegogo sometime ago but it felt like it was more focused on films" Derek mentioned feeling that there might have been a better site. They shortly discovered Kickstarter that had recently launched in Ireland. "It was a no-brainer" Derek adds.
Derek  and Ralph are looking for a target of €15,000 to develop ZompireWolf into a one of a kind, stunning, fast paced, endless running mobile game.
"The gaming culture in Ireland is a very friendly community" Derek and Ralph added as we discussed the games place within Ireland. They went on to chat about their visit to Comic Cons across Ireland and the UK saying that the Irish geek and gamer community are friendly and engaging which was very encouraging as they pitched their ideas to the people that they met.
And where would they like to see the game in the next 2 to 5 years? "The ultimate goal is to develop it to become a household name". They went to explain how they would love to see it become a sandbox type console game that will allow for people to really engage with the game and world around it, and to have toys and figures around it.
Having met Derek and Ralph I've become equally excited with the concept and can't wait to get my hands on the game ! The level of passion, drive and excitement that they have seems to touch everyone that they talk to about it and it really can be seen through their Kickstarter Page.