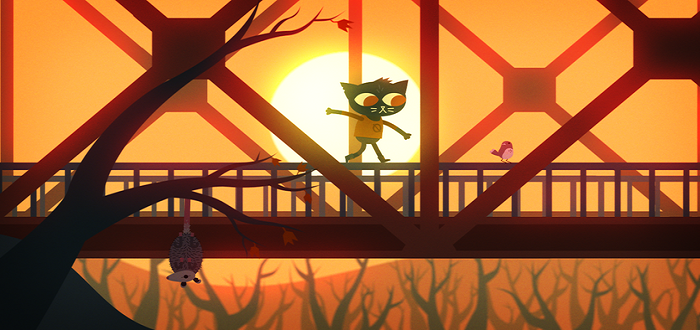 Top 5 Most Anticipated Indie Games
As The Arcade's resident indie guy, it struck me as odd that I've never made this list before, but better late then never I suppose. This list is about my top five indie games that I am looking forward to in the future, complete with fancy trailers for you to feast your eyes on.
Now, as you go through this list, you may start to notice a trend appearing. If you notice synthwave music, heavy neon contrasted by pastel colours and a cute yet mysterious set of characters, then sorry, it seems I have a type. Again, this is my list, so my likes and interests are going to take precedence at the end of the day, but I would still urge everyone to go out and look into these games, as they are all fantastic in their own way.
YIIK
This little gem comes to us from Ackk Studios, developers of last year's quirky little RPG, Two Brothers (not to be confused with Brothers: A Tale of Two Sons). While their first game had its problems, it was filled to the brim with inspired ideas on how to mix up the RPG genre. This new title, named YIIK, seems to be trying out new things too, as it uses a mix up of Earthbound and Persona's battle systems, alongside a visual novel story, unique world and a weird group of hipster teenagers. While this one isn't for everyone, I am for sure looking forward to Ackk Studio's second outing with YIIK. 
You can find out more about YIIK at the official site.
OMORI
This is yet another Earthbound-inspired RPG (yes, I know a pattern is emerging) from a long time internet artist, OMOCAT. Back in 2014 this game received $203,300, far exceeding the original goal of $22,000. The game received a substantial amount of buzz, and for a good reason. The game is a surreal horror RPG, borrowing a lot of ideas from the many RPG Maker titles (Yume Nikki).
While only a single trailer and a few gameplay snippets are floating around at the moment, the game is already all I want from a dark RPG horror game. A mysterious story, eerie characters, trippy visuals and a fantastic score from the talented Bo en. If you haven't already checked out the trailer, I urge you to, as it's wonderfully disturbing in all the right ways.
You can find out more about OMORI at their official site.
Hyper Light Drifter
Ah Hyper Light Drifter, how I remember being blown away from your first trailer all the way back in 2013 during your Kickstarter campaign. This game did very well through Kickstarter, gaining $645, 158 over its original target of $27,000. Heart Machine, the team behind the game, achieved this success through its mysterious trailer, showing off everything I want in an indie action game.
A pastel-bit world contrasted by heavy neon colours and score, and offered features such as a lone warrior delving into an ancient temple, an organic decrepit living robot warrior and a tone that's reminiscent of old sci-fi books. While similar games like Titan Souls have come and gone, Hyper Light Drifter still remains in my top list of anticipated games, making me even more excited for next spring.
You can find out more about Hyper Light Drifter at their official site.
Night In The Woods
I remember back at the beginning of 2014 when I said that Night in the Woods would have been my game of the year if it had released that year. Well, here we are in the third quarter of 2015, and Night in the Woods is still nowhere to be seen. Over this time, developers Alec Holowka and Scott Benson have expanded the game into something far larger, even bringing it to the PS4 when it eventually releases.
If you still don't know what the game is, I would describe it as if Twin Peaks had a baby with The Breakfast Club, and that baby was really into Gravity Falls. I know, that's a lot to take in. This game, to me, is exactly what I want from a game in 2015; charming writing, good representation of female and gay characters, vivid art style and an original story. Now I just have to keep waiting and hope it actually comes out and hasn't been a dream this whole time.
You can find out more about Night in the Woods at their official site.
VA-11 HAll-A
So I get the feeling that someone at Sukeban games has been following me around and making a game with everything I love. VA-11 HAll-A (pronounced Vall Halla) is a dystopian cyberpunk bartending/visual novel. Yes, I am being serious. Borrowing its inspirations from games like Snatcher and Policenauts, VA-11 HAll-A's melding of anime visual novel elements with a robust bartending mechanic works marvellously well, allowing you to mix drinks while talking to the customer on the side.
Having played a very early demo build of the game, the closest thing I could compare it to is Paper Please. The conversations and drink making mechanic are very similar to the border patrol sim conversing and passport checking, The game is completely different in tone, however, as you actually get to know the customers you are serving. The whole game feels like a mushy, heartfelt love letter to the 80s, complete with references to Robo Cop and Far Cry 3: Blood Dragon. It's rare for a game to actually make me search out a demo and extra coverage, but VA-11 HAll-A has entranced me with its unique setting, hilarious dialogue, addicting gameplay and amazing score. All I can say is, roll on December.
You can find out more about VA-11 HAll-A at their official site.
Are you looking forward to any of these games? Let us know what you think in the comments.