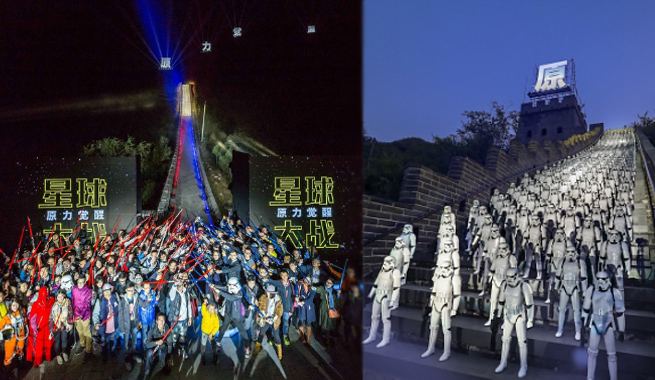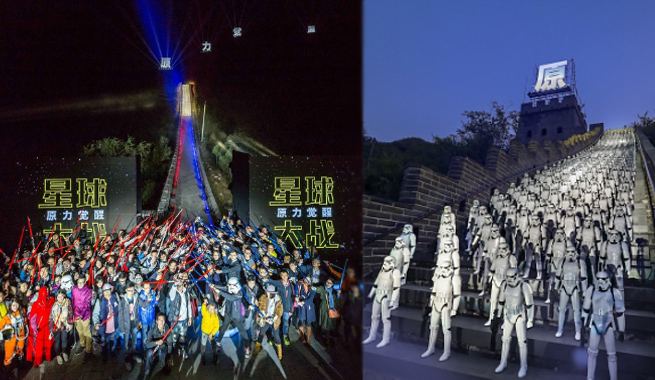 At this stage, the majority of us have not only viewed the latest Star Wars: The Force Awakens trailer, but you've booked your tickets for the midnight showings, changed your desktop background and talked your partner into naming your first child 'Kylo Ren' as well. But no matter how many times you've seen the trailer, or how awesome that midnight showing seems to be, we don't think anyone's going to beat being able to watch the trailer projected onto a national monument surrounded by storm troopers.
In a recent publicity event, Lucasfilm and the Walt Disney Company projected their latest trailer (viewed here) onto the Great Wall of China. To add to the experience, the Disney reps were surrounded by a battalion of 500 stormtroopers while beacons shining out the words 'yuan li jue xing' or 'The Force Awakens' went off behind them.
Needless to say, we think this wins the award for 'Coolest Trailer Viewing of the Year'. Can only imagine what the actual movie viewing parties will be like in China! As for the rest of us, we can only hope that our midnight showings are up to snuff. Let us know what you'll be doing to celebrate the release of Star Wars: The Force Awakens in the comments below!