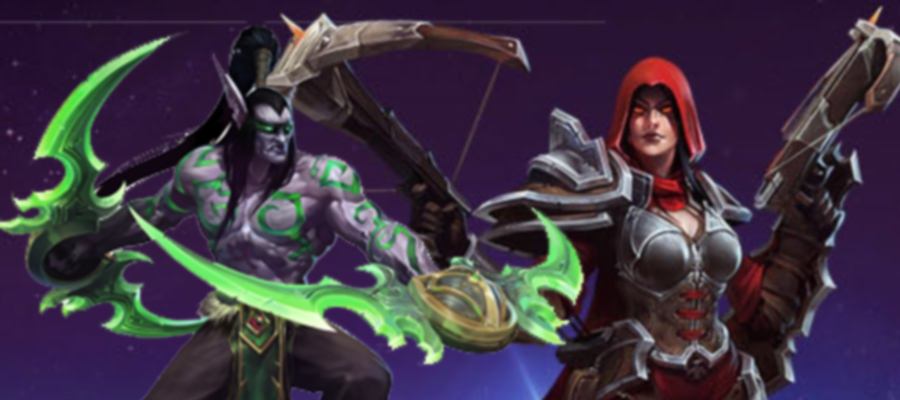 Style Saturday: Heroes Of The Mascara
Thanks to our editor in chief, I've been playing Heroes of the Storm almost non-stop for the past week, and I may or may not have let it influence me when planning this week's Style Saturday.
Valla
I wish I could have contacts that glow, but since that isn't a thing yet, I decided to give the classic smokey eye a bit of a halo-ey glow.
To achieve this look, start out with the lightest colours first, and finish off with the black. I started applying a matte white base from my brow bone to my crease, then applied the yellow and made sure it was well blended into the white. After that couldn't be blended any more, I applied the orange right into the crease, not letting it overpower the yellow.
To achieve a super black eye, using a black creamy base under your shadow is your best option. Here I used Nyx's jumbo pencil in 'Black Bean' and topped it with Nyx's Primal Colour Shadow in 'Hot Black' (Which I must say is the blackest black to ever black the black. HIGHLY RECOMMEND). Just a word of advice: don't blend the black too much with the orange, otherwise you can end up with a muddy brown colour, and that's not cool.
For such a dark look like this, don't be afraid to apply a heavy hand of mascara. Here I used Bare Essentials' Buxom Lash.
Illidan
I don't really fancy playing with melee characters, but can we take a moment to just appreciate how awesome Illidan is? I was inspired by his weapon for this graphic liner look.
In the last Style Saturday, I talked about using sealing gels as a medium for making your own liquid liners, and today I'm bringing you a much cheaper DIY solution if you're stuck without the gel: saline solution. Now, this doesn't have much staying power as a proper sealing gel would give you, and doesn't make it waterproof like the gel does, but it is a quick fix if you decide to do a custom coloured liner on a whim. Just mix a bit of the saline solution with some loose pigment and you're good to go! Mix some colours together to make an ombre effect that'll give your edgy liner a special touch.
For both of these looks I used the Sugarpill 'Burning Heart' eyeshadow palette. If you're looking for super bright matte colours, I highly recommend this palette. It is extremely versatile even though the colours are shockingly bright.
What do you think of both of these looks? Let me know in the comments!