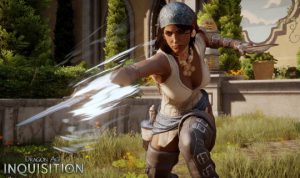 A few days back, Bioware announced that in the next update of Dragon Age: Inquisition on Tuesday May 5th, players would get access to The Black Emporium for no extra cost. But it seems that that's not all we're getting on Tuesday.
The Fantasy Epic is getting a free multiplayer DLC on Tuesday! Where players can take their place among the legendary Dragonslayers of Thedas, if they have the skill to earn it. Players will have to craft the 'Dragon's Call' to summon the beast to the battlefield. But they won't have to do it alone…
The Dragonslayer DLC comes with three new playable agents of the Inquisition.
Skywatcher, the fierce Avvar warrior from the Fallow Mire.
Zither, the famed bard (who we thought was just an April Fool's Joke??)
And finally, the Raider Queen, Admiral Isabela joins up to do battle alongside the Inquisition.
Along with these, a new map has been added to the multiplayer roster, a Fereldan Castle.
As far as DLCs go it seems like a pretty standard addition to the thriving multiplayer in Inquisition. Bioware are clearly following the Mass Effect multiplayer model of free maps and addition characters but with far more enthusiasm.
I don't know about you guys but I'm definitely jumping into this on day one. And not just because I get to play as Isabela again (although that's like 90% of it).
Dragon Age: Inquisition – Dragonslayer is available on Tuesday May 5th on PS4, PS3, Xbox One, Xbox 360 and PC for free!