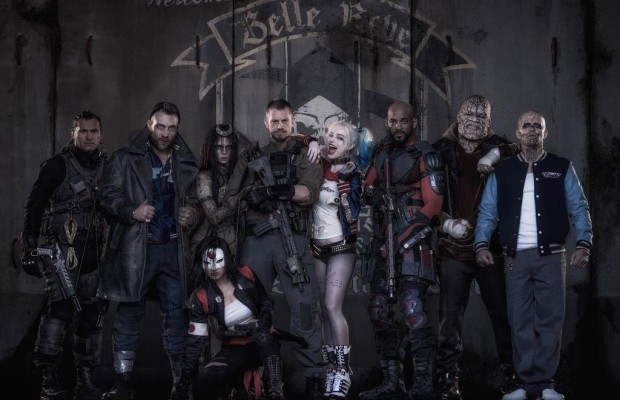 First Full Costume Shot Of Suicide Squad Revealed
The ensemble crime film Suicide Squad, part of the DC/Warner Bros cinematic universe, has finally had its cast revealed in full costume. Normally, this wouldn't be HUGE news, but this includes the first live action portrayal of Harley Quinn, and the first big screen appearance for all of the characters in general. So, all eyes are on what David Ayer does to bring them all to life for a blockbuster, and now he's taken to twitter to reveal how each will look in the film.
Task Force X assembled and ready. #SuicideSquad pic.twitter.com/fEV7E1aPsm

— David Ayer (@DavidAyerMovies) May 3, 2015

From left to right, we have: Slipknot (Adam Beach), Captain Boomerang (Jai Courtney), Enchantress (Cara Delevingne), Katana (Karen Fukuhara), Rick Flagg (Joel Kinnaman), Harley Quinn (Margot Robbie), Deadshot (Will Smith), Killer Croc (Adewale Akinnuoye-Agbaje), and El Diablo (Jay Hernandez).
Notable costumes here at first glance are Deadshot, Katana, Enchantress and, of course, Harley Quinn, all of which pass the test of not looking daft. The rest vary between okay to a little bland, but overall, that's a strong line-up of characters, if you ask me – specially with the amount of racial diversity going on.
These characters will all be practically new to the movie-going audience, in some respect, so a trailer will be needed before a proper judgement made, but so far I'm definitely not disinterested. And the feedback so far has been better than Jared Leto's reveal a few days ago!
UPDATE: As a special treat, David Ayer tweeted Deadshot, Will Smith's character, in full costume, mask and all:
Deadshot #SuicideSquad pic.twitter.com/HEF0jFeMsO
— David Ayer (@DavidAyerMovies) May 4, 2015

What say you, internet? Sound off in the comments!