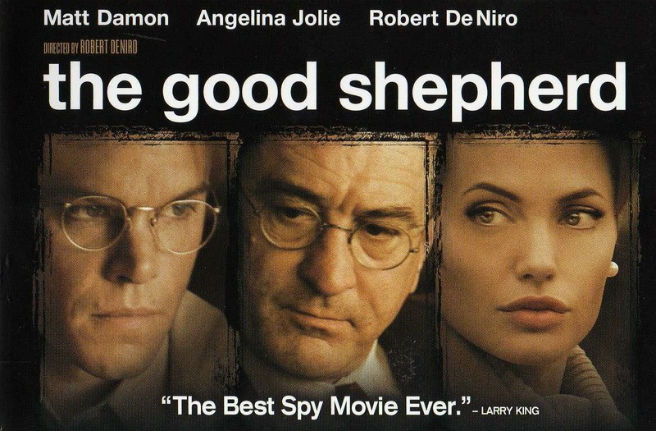 Early next year will see the release of Hands of Stone (2015), a new film with Robert De Niro. In recent years De Niro has featured more and more as an actor in a supporting role and this seems to be no exception. However, a few years previous De Niro, a man synonymous with acting, decided he'd like to try directing again. The film was The Good Shepherd (2006), written by Eric Roth and featuring Matt Damon in the leading role of Edward Wilson, alongside Angelina Jolie, Alec Baldwin, John Turturro, Michael Gambon and De Niro himself.
So far so simple.
The plot, however, is not, though the beginning is innocuous enough. Wilson (Damon) is a poetry student at Yale, an Ivy League University. He is recruited to become an intelligence operative in a program that will ultimately become the CIA. At it's heart, the film is a study in dishonesty and in the all-consuming corruption that accompanies it, on a grand and personal scale.
With credentials like this, the film comes with high expectation and, while it may suffer a certain shortfall, many of those expectations are fulfilled. Being in possession of a face that is (certainly was)incredibly age-elastic, Matt Damon inhabits his character Wilson across a 10 year span that is cosmetically convincing.
The film also has wry treatment of its central theme.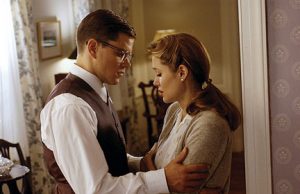 Near the beginning, we see Wilson in drag for a production of Gilbert and Sullivan's HMS Pinafore. The benign pretense of a play where men dress as women is the starting point from which subsequent duplicity stems, which proves variously fatal.
The first agent of Wilson corruption (agent in every sense) is the FBI's Sam Murach (Alec Baldwin). Admittedly some may find Baldwin's performance more convincing in light of recent extra-theatrical activities, however his performance was suitably unctuous the first time. Wilson's wife Margaret Russell or simply Clover, is portrayed with staggering force by Angelia Jolie. Opposite Wilson in his professional life is Ray Brocco (John Turturro). The two make an odd pair. Wilson's refined reticence contrasts with Brocco's abrasive air that initially makes for excellent comedy value. Yet, as the film progresses, their two natures come to reveal the two sides of foreign counter-intelligence operations, insidious and incendiary.
So there is much to be said for The Good Shepherd.  That said there are problems.

There are two minor problems in the form of Damon's and De Niro roles – De Niro's character appears to inform the audience (superficially Wilson) of the forthcoming events, at least as expected.  For many the motif may soon annoy.  As for Damon's character, Wilson's distinguishing feature is that he is emotionally undemonstrative. An impenetrable character is possible on screen or page – look no further than George Smiley. Personally, I like this film and find Damon's portrayal intriguing. The fact he is so hard to read is correlative with the espionage backdrop, and made me look harder. That said, I don't expect my tastes to be shared and anticipate that many will find in Wilson a character it is difficult to become involved with, especially a film of such duration.
And it is duration that is ultimately the key problem. Specifically, the plenitude of time and the sparsity of laughs.
Other than the comedy value of the Brocco-Wilson dialogue, laughs are in short supply, which is problem in such a long film. At close to 170 minutes, The Good Shepherd is not only a long film, or even a long film that tells a serious story. It is a long film with a serious story that takes itself seriously. The straight-laced way the story is told does build tension and paranoia. Even so, the absence of levity not only conspicuous in a way that distracts from the story itself, but even undermines its central thesis. In his memoir Experience (2000) remarks 'By calling him humourless I mean to impugn his seriousness'.
The trouble that the lack of laughs presents is that by the time the film is over you would be forgiven for thinking that the narrative you just watch unfold was told by a 'guy on the inside'; that is, that the story you got, being sanitized of jokes, conceivably sides with the men whose actions it sets out to malign. It is worth remembering: ambiguity and vagueness are not the same thing.
In all, long but essentially well-executed 7/10