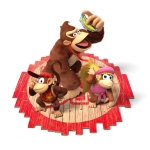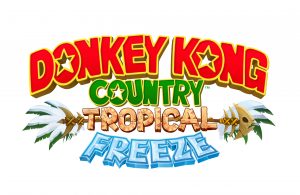 On February 21st, Donkey Kong and his crew will be hitting your WiiU screens! 
This time around, the Kongs have their island home invaded by the Snowmads: new cold-hearted foes who arrive on longships and, with a toot of a magical horn, turn the tropical paradise into their frozen fortress. To make matters worse, when the arctic cyclone sweeps over Donkey Kong Island, the Kongs are blown far away and must begin an epic journey spanning six differently-themed islands, to reclaim their banana hoard and thaw out their home. On each island, a multitude of fierce and frantic levels await that throw Rambi rides, underwater antics, epic boss battles and secret exits across your path. On many occasions, the new dynamic camera twists the action in a way never seen before, lending a more cinematic point of view to frenzies of Barrel Cannon blasts and Mine Carts careering off the rails.
In good Donkey Kong Country series tradition, DK can team up with a buddy on his back to gain extra abilities – and this time, there's no less than three to choose from! The ever dependable Diddy Kong returns armed with his Peanut Popgun and Barrel Jet move to hover over deadly gaps. Also returning to the series is Dixie Kong with her Gumball Popgun, who whips up her blonde locks in the Helicopter Spin move to gain extra air in jumps. For the first time ever in the series, Cranky Kong joins the playable cast of characters. Armed with his trusty walking stick, he can help Donkey Kong traverse spikey terrain using the Cane Bounce move. When playing solo, seek out the most suitable buddy to discover the game's many secrets – or team up with a friend who can take control of a sidekick of choice.
We here at Arcade HQ are super excited for this and it's definitely going to be one to pick up!