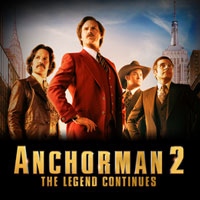 Review: Anchorman 2: The Legend Continues
Too long.
If there is a phrase that can sum up the post-Anchorman success output of Will Ferrell and his loose stable of comic collaborators, it's this. That inlcudes this latest joint, which has been too long in waiting to hit our screens, coming a full decade after the original gained first cult, then world domination status among zillions of moviegoers. It also covers the actual length of the film; a run-time of over 2 hours is pushing it for what is basically a smattering of surreal mugging sketches taped – in some places disastrously badly – onto an intriguing and under-used premise.
In case you are one of the people who hasn't been bombarded with the viral campaigns, trailers and other adverts, the 80s set plot finds titular newsreader Ron Burgundy on the skids after being fired from his network news job, splitting with his wife and 8-year-old son, only to be snapped up by Dylan Baker's producer to join a brand new news venture; 24-hour news. Burgundy has to assemble his old news team, adjust to a new (black) boss, a new format, and being somewhere it seems the character's never been – the bottom of the ladder.
Sound good? It really does. The 24-hour rolling news format has been dying for a proper satire, thanks to its mix of wild speculation, OTT graphics and often bungling live presentation. It's a format that's almost as larger-than-life as Ferrell's protagonist, and dumping him among the preening stars from old-school network news (as personified by James Marsden's square-jawed newsroom bully) sets up potential gags from all angles.
Unfortunately, said gags are especially difficult to find; a Rupert Murdoch-esque villian is given a blunt, funny introduction ("I was glad he was acquitted of murder.") then disappears for the most of the movie, along with the chance to see Ron use his idiot powers for good; The sinking of the format from one of serious news into one of fluffy, substance-less chatter is dealt with in a single scene and cast aside; and the awkward duel between Burgundy and Marsden's Jack Lime in the battle for a prime-time slot is barely given a nod – Burgundy wins the bout early and the whole enterprise is rendered pointless.
Instead we're subjected to seeing everyone's favourite moustachioed newsie overcome his race and fatherhood issues via his boss being pathologically attracted to him, re-living Guess Who's Coming To Dinner? In reverse in a scene that's either hilarious or cringeworthy depending on how funny you find a white man using ghetto slang, watching him go through a TV-movie sudden blindness plotline, bond with his son by nursing a sick baby shark, and enduring an apocalyptically overdone retread of the first movie's news team rumble that includes more cameos and stupidity – along with a psychic therapist played by Greg Kinnear – than all Ferrell's other films combined to make it to his boy's first piano recital and reconcile with his wife (the returning Christina Applegate, again barely in the picture.) They even manage to find time for bit players from the first movie for no particular reason. Frankly, Fred Willard deserves better.
The rest of the news team fares little better. Another potentially interesting plot strand, Paul Rudd's Brian Fantana challenging Burgundy's alpha male position in the news team, is left by the wayside, and Champ Kind is at one point actually reduced to reciting his "Whammy!" catchphrase over and over again like a broken record by a band nobody likes. Somehow, it's Steve Carell's hilarious, but extremely one-note Brick Tamland whose arc is expanded upon, and his numbskull love story with Kristen Wiig's mentally challenged office temp proves just how much better the gag works in very small doses. Once again, it's too long and it drags the movie out needlessly.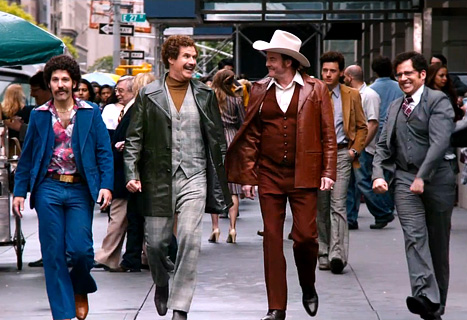 From start to finish, script to screen, it feels like Ferrell and director Adam McKay have taken the easy way out. Their set-up is smart and intriguing, but they blatantly avoid the pressure of delivering on the premise, simply putting Burgundy out on top of his many challenges early so they can rehash old gags (not even the best ones) and bring in new ones that never find the spark that made the first outing such a quotable joy. Ferrell, it has to be said, manages to squeeze a few chuckle-worthy moments from his signature character, a botched suicide attempt early on and his interchanges with Kinnear's character proving surprisingly mirthsome, but the stretches of self-indulgent buffoonery in between are…you get the idea.
Anchorman 2's many problems aren't going to affect its box office, but the sheen has been well and truly taken off Burgundy's impeccable hairdo, and it's turned the character from a cult icon into every other second-rate caricature that Ferrell has ever assayed. It could have been so much better, but filmmakers, it seems, just didn't want to stay classy.
[easyreview cat1title="The Arcade Verdict" cat1detail="" cat1rating="4.5″]