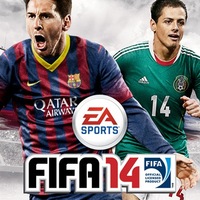 Review: Fifa 14
Fifa as a series, has re-invented the soccer genre in gaming, turning it one of the most successful video game franchises in history. While Fifa 14 doesn't have a major marquee feature, it does tweak almost every aspect of the game focusing on gameplay in particular. Is it enough though to make it's mark in today's competitive market?
Before I delve further into gameplay of Fifa 14, I'll start off with the presentation which, of course, keeping series tradition, is brilliant. The commentary is rich and very well done, tackles, passes, fouls and goals all have dozens of unique lines on Que. It's also a nice touch to see the entire "Airtricity" league, all Irish clubs like Limerick FC, Bohemians, St Pats etc all in full kit, with attention to detail to facial features, sponsors and stadiums (pitches). However, it is heartbreaking to see their scores, Limerick FC have a tough-to-swallow half star rating out of five, which is the average score thorough the league but let's see it as a challenge and rise to the occasion!
Now moving on, gameplay time… the engine used is the same as Fifa 13 but tweaked and fine-tuned perfectly, tackles are visceral, dribbling is fluid and striking is extremely satisfying, physics and bodyweight play a huge role in determining where the ball goes and becomes and adds a whole new level to the game as you determine who to pass to, while being chased down by defenders and controlling your body to ensure the pass is successful. However, the passes feel sluggish and dated in comparison to the fast and aggressive gameplay of striking and defending. It is a small scratch in the gem that is Fifa 14.
Visually the graphics, they look dated and celebrations and facial expressions seem a bit robotic. However, a new graphical engine is in development for the PS4 and Xbox One version and hopefully that will breathe some new life into the looks but for now lets talk about Ultimate Team…
Ultimate Team is back, and even more heartbreaking than ever. Watch your team go from strength to strength only to be annihilated come Division 1! I love Ultimate Team, somehow it brings deep tactical RPG elements and a soccer game together in perfect harmony. Start off with a weak division 10 team and slowly build up your team by earning players, winning matches, getting coins, buy packs (contains players either rare or regular, consumables which increase stats like fitness, handling etc per game and contracts which keep players with you for longer) buy and sell players via transfer or swap them with friends. Ultimate Team is a triumph in modern games, the ability to manage everything in a team, even club name and logo as well as having a hands on experience with matches as you struggle to progress through the divisions…did I mention Ultimate Team can also be played online? Who doesn't love a bit of stress and you don't even get paid to run this team! 

Speaking of online, Fifa Online came under fire previously due to the common enemy of all gamers everywhere: Rage Quiters.
If you were winning an online match, your opponent would cowardly quit the game, causing you to lose progressbasically, it wouldn't count as a win, draw or loss. It would just be a waste of your time now however, it is far more balanced. If I'm losing 4-0 and I come back at the second half and net three goals in five minutes and my opponent "withdraws", I'll win. Due to the stats behind the goal scoring, this definitely gives you a reason to stay until the bitter end and claim your victory… Even if it was pure luck….
Career mode also returns, but I didn't play it as much, it just isn't as satisfying or compelling as Ultimate Team. I'd rather not check emails and sign contracts, however, it's all there and they didn't cut any corners with it! So for fans of Career mode, it's all here for you!
For those who haven't already purchased this title, but are getting a PS4/Xbox One this year, I'd tell them to hold out for the next-gen version. According to EA they completely changed the engine, inventing the Ignite engine. This features both graphical and game-play changes such as Human Intelligence to make players react more like the real thing, True Player motion to create more realistic movement from the players and more realism to the way environmental features like weather and stadium crowd dynamics develop during play.
If you do want to relax with some football, Fifa contains myriad gameplay, customization and endless hours of fun and EA has succeeded yet again in creating a worthwhile title. It also comes out for Wii, 3DS, PSP, Vita and marks the last game to be released for PS2. 
[easyreview title="The Arcade Verdict" cat1title="Gameplay" cat1detail="Refined to near perfection. Passing lacking ever so slightly." cat1rating="9 out of 10″ cat2title="Audio" cat2detail="Commentary, soundtrack and local clubs all feature in perfect harmony." cat2rating=" 9 out of 10″ cat3title="Online" cat3detail="Ultimate Team and Career Mode is deeply bittersweet and satisfying" cat3rating=" 9 out of 10″  overall="true"]