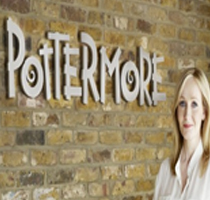 "Pottermore is the place for Harry Potter fans to share and participate in the stories, showcase their own Potter-related creativity, and discover additional information about the world of Harry Potter from the author herself."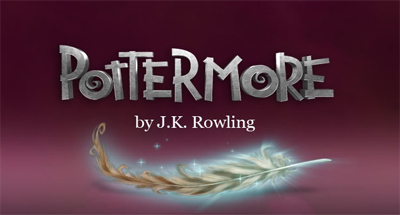 The brain child of J.K. Rowling herself, 'Pottermore' is a website developed by TH_NK and partnered with Sony, it is in Rowling's words, the 'permanent online home' for the magical world of Harry, Ron and Hermione. Three whole years in development, the project first began in April of 2009 up until last year the project was kept on the down low for the most part. Word first broke of it's existence in June last year when several Harry Potter fansites began to publish coordinates to clues left by J.K. which when gathered together would reveal the project to those smart enough to find it. It was at the end of June 2011 that J.K. Rowling announced details of the site publicly in a video posted on YouTube.
Just under two months later Beta Testing began for the site and users were encouraged to sign up and begin their adventure while leaving feedback for the developers so improvements could be made well in advance of the official launch. Originally scheduled for October 2011, the duration of Beta testing was increased and the launch date was pushed back to April 14th 2012.
Pottermore has finally arrived and legions of Harry Potter fans from all over our world now have a chance to engage and experience a new world, one inhabited by mystical creatures, powerful magic and heroes and villains alike.

'Pottermore' isn't just an online store to download the books or read online, the idea behind the website was to create an interactive space for fans and that's exactly what the creators have done. The website will follow the seven books of Harry Potter in chronological order, with the first book 'The Philosopher's Stone' available to explore now and the other six to be released gradually over an undisclosed time period. The adventure starts at the very first pages of the book and key moments and chapters are laid out for you to marvel over, uncover hidden secrets and interact with right up until the last few pages and the blighted reappearance of 'He who shall not be named'.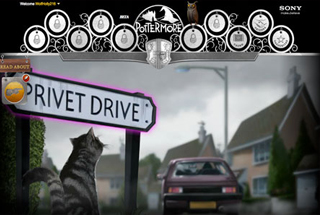 You are required to register for 'Pottermore', appointed a randomly generated username and from there your adventure begins. You follow the same path as everyone who signs up for website from the cupboard under the stairs in the house on Privet Drive to the bustling shops of Daigon Alley but on arriving at Hogwarts you encounter the 'Sorting Hat' who after a seven questions will place you into one of the four houses, Gryffindor, Slytherin, Hufflepuff or Ravenclaw.
At this point of the game you are also able to leave the main path of the story and begin earning House Points which are added to your House total with all four competing for the coveted House Cup (officially never using the H word again!). In your the Common Room  you can keep track of achievements your fellow students have racked up as well as your own. There also two activities for you to try your hand at 'Spells' and 'Potions' both of which require a lot of practice before you can actually perform them adequately!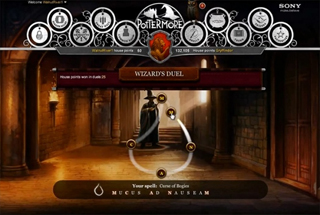 Casting spells requires timing and dexterity and after some practice can be taken to the next level 'Wizard Duels' where you pit your skills against students from your own dorm or if you fancy winning some points you can challenge the students from the other Houses (dammit!) – the potency of your spell is measured by your speed and accuracy with the winner determined by their rating on the spell.
Potion brewing isn't competitive but it is just as difficult to master – collecting ingredients, grinding, stirring, waving, boiling and waiting all require your full attention with the most basic of potions going wrong by simply looking away.
While the chapters are meant to allow players to immerse themselves in the world, they also contain secrets and collectibles from coins to cards and even books! Throughout the seventeen chapters you will find information that J.K. Rowling herself has added, background information on characters and magical items never before released or heard. That also brings us to the occasional popup video that appears on the site, these feature small clips of Rowling speaking to her readers and they are an absolute delight at least for us they were because it really feels like she has invested her time into the world 'Pottermore'.
However it's not all perfect, we have found the site to be riddled in annoying glitches! We've have to refresh constantly because of frozen pages, some collectible items aren't clickable and occasionally the sound will drop out. The worst problem we have with the website is the delay in getting access to it – which many fans have been speaking out about! The first time we signed up it took over 24 hours before we received confirmation and the second time (first time round we were housed in Hufflepuff… why?!) we created a new account it took almost 16 hours before we got back into the site (Slytherin baby…oh yeah!). You will also find yourselves at the end of the first book very quickly and after that it is really up to you to keep the site going – you can find and add friends from all four Houses, compete in duels or perfect your potions all of that until the next book is released!
'Pottermore' is the perfect place for a diehard Potter fan but it's not without it's problems but those aside you will quickly find yourself absorbed back into the world of the books once more and since that was her plan all along then Rowling has once again captured our hearts and imaginations.
You can sign up for your very own 'Pottermore' adventure now – just click here!
Editor-in-Chief, part-time super villain and hoarder of cats. If you can't find me writing, I'm probably in the kitchen!