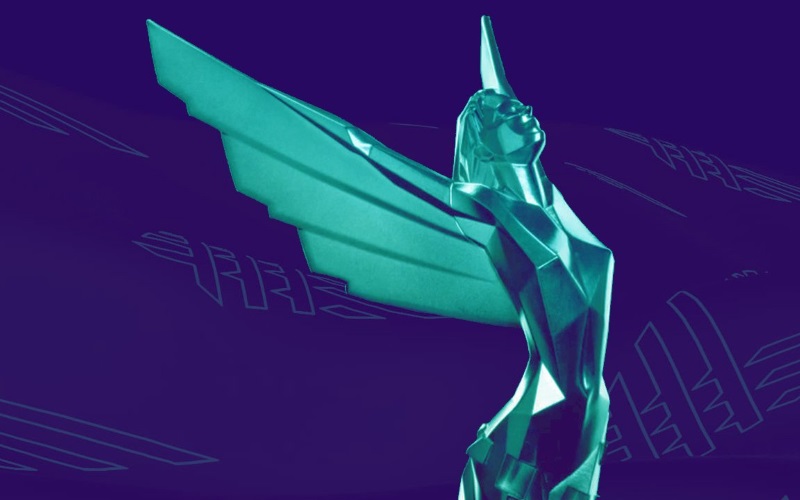 All The Big Announcements And World Premieres From The Game Awards
There were lots of big game announcements at The Game Awards this year and we have a list of the best revealed games from the pre and main show. Check them out below.
Sayonara Wild Hearts
Created by the award-winning studio Simogo—best known for the critically acclaimed games DEVICE 6 and Year Walk—Sayonara Wild Hearts is an adrenaline-pumping arcade game in which players take control of The Fool, a masked biker on an interdimensional quest to find and break the hearts of rival bikers.
Journey to the Savage Planet
Created by Typhoon Studios, Journey to the Savage Planet is an upbeat first-person adventure game set in a bright and colorful alien world filled with weird and wonderful creatures. As an employee of Kindred Aerospace, which proudly touts its rating as the "4th Best Interstellar Exploration Company", players will be dropped onto an uncharted planet deep in a fictitious, far-away corner of the universe. It will launch in 2019 on PlayStation 4, PC and Xbox One.
The Stanley Parable: Ultra Deluxe
The Stanley Parable comes to consoles (and updated for PC too) as the Ultra Deluxe version. It will have new content with more endings and story and will releases some time in 2019.
Among Trees
A small vibrant survival sandbox adventure, Among Trees is set in a colorful wilderness world teeming with life. Heading to Steam Early Access in 2019.
Marvel's Ultimate Alliance 3: The Black Order
The newest in the Ultimate Alliance franchise comes exclusive to Nintendo Switch. Team up with friends to prevent galactic devastation at the hands of the mad cosmic tyrant Thanos and his ruthless warmasters, The Black Order. Expect to see more in 2019.
Rocket League DLC McLaren 570s
A new car pack for Rocket League, bringing the McLaren 570S to the game. It's available right now for all platforms.
Far Cry New Dawn
Set seventeen years after a global nuclear catastrophe, Far Cry New Dawn brings players into a wildly beautiful and radically transformed Hope County, Montana. Life has begun to emerge from the chaos, but the survivors now face a new threat – the merciless Highwaymen and their leaders The Twins, Mickey and Lou. Far Cry New Dawn will release on 15th February, 2019 for PlayStation 4, Xbox One family and PC.
Hades
The latest game from Supergiant Games (Transistor, Pyre) comes Hades. It sees you defy the god of death in this rogue-like dungeon crawler.
Ancestors: The Humankind Odyssey
Embark on the most incredible odyssey known to humankind: human evolution. Spanning from 10 million to 2 million years ago, begin your journey, "Before Us," in Neogene period Africa. Ancestors: The Humankind Odyssey, a third-person open world survival game from Panache Digital Games published by Private Division. Coming to consoles in 2019, but is available on Steam Early Access now.
Scavengers
Scavengers is a survival shooter "co-opetition" game from Midwinter Entertainment. Faced with extreme weather and limited resources, hostile inhabitants and opposing players, explorers must team up to complete objectives, improve their gear, weapons, and tools, and ensure the survival of the human race.
Dead By Daylight Darkness Among Us
The new chapter to the Dead By Daylight brings a new map, survivor and antagonist with the Darkness Among Us update. It releases on December 11th.
Anthem
The latest trailer shows a glimpse of the story elements for the upcoming title. Through the power of the javelins, skilled pilots called lancers were able to fight back against this perilous world. But a new enemy has emerged, seeking to harness the limitless power of the Anthem. And if they succeed, nothing will stand in their way. There is a VIP demo coming to PS4, Xbox One and PC January 25th. It will release on February 22nd 2019.
Crash Team Racing Nitro-Fueled
It's happening, the beloved Crash Team Racing is getting a remake in the vein of the Crash Bandicoot N. Sane Trilogy. Coming from Activision and Beenox, Crash Team Racing Nitro-Fueled will remake the original game from the ground up. It will include all the original tracks, characters and karts and will have split-screen racing and online multi-player. Crash Team Racing Nitro-Fueled will release on June 6th 2019 for PS4, Xbox One and Nintendo Switch.
The Outer Worlds
The Outer Worlds is latest game from Obsidian sees you venture into a sci-fi RPG, where you awake on a colony ship lost at space. You'll explore new worlds, strange factions and quirky humour. It has vibes of classic Fallout in space. It is coming to PS4, Xbox One and PC in 2019.
Dauntless
Band together to take down the savage Behemoths threatening our world. Claim their power and forge your legend. Available now for PC. Coming to PS4, Xbox One & Switch in May 2019.
The Last Campfire
Hello Games latest 'short', The Last Campfire follows the story of a lost ember trapped in a puzzling place, searching for meaning and a way home.
PUBG Winter Trailer
New Map. New Terrain. New Ways to Survive. Introducing Vikendi. Available on PC and coming to consoles in January.
Atlas
From the creators of ARK: Survival Evolved comes ATLAS – a massively multiplayer first-person pirate adventure. Stake your claim in the endless open world as you conquer territory, construct ships, assemble forts, plunder settlements and hire crew to join your powerful armada. Campaign with over 40,000 simultaneous online players, as your influence expands from a small island, to a pirate empire that spans the Globe. Coming to PC in December and also to consoles in 2019.
Dragon Age – The Dead Wolf Rises
A quick teaser to the forth Dragon Age game from Bioware. Little else is known about the game. Expect to see more in 2019 and beyond.
The Pathless
The Pathless is a mythic adventure game about an archer and an eagle in a vast forest. Become the Hunter, a master of archery who travels to a mystical island to dispel a curse of darkness that grips the world. Forge a connection with your eagle companion as you hunt corrupted spirits, but be careful to not become the hunted yourself. Explore misty forests full of secrets, solve puzzles in ancient ruins, and test your skill in epic battles. The bond with your eagle and the fate of the world hang in the balance. Coming to PC and PS4 in 2019.
Survived By
Fight, loot, die and fight again in Survived By, an exciting new bullet-hell roguelike multiplayer RPG developed by Human Head Studios! Available on Early Access now.
Stranger Things
A 16-bit style game that will follow the story of season 3 of Stranger Things. Developed by BonusXP. Expect it to release closer to when the new series comes to Netflix in 2019.
Mortal Kombat 11
Revealed by Ed Boon, the latest installment will continue the brutal and chaotic fighting style of Mortal Kombat. The all new Custom Character Variations give you unprecedented control to customize the fighters and make them your own.
Psychonauts 2
Psychonauts 2 tells the story of Razputin Aquato, a gifted acrobat with psychic powers, as he fulfills his life-long goal of becoming an international psychic super-spy. It will have some old-school platforming and wacky adventuring. It will release on PC, Mac, Linux, PS4 and Xbox One.
Fortnite
Fornite Season 7 releases for all platforms and brings a mysterious iceberg has smashed into the island, bringing new frosty locations and gameplay, including a new flying vehicle: the Stormwing. Jump in now and start playing. There was also an announcement of The Block, an area where user created content will be showcased on a regular bases.
RAGE 2
This new trailer shows off the open world nature of this post-apocalyptic playground. Go anywhere, shoot anything, explode everything. RAGE 2 will be available on PlayStation 4, Xbox One and PC on May 14th 2019.
Super Smash Bros. Ultimate x Persona 5
The first character pack coming to Super Smash Bros. Ultimate will have Joker from Persona 5. This was a surprise announcement and Nintendo President of Nintendo America, Reggie Fils-Aimé, promises more non-conventional roster additions for the remaining four character packs.
Wrap-up
Phew, that was some set of announcements. What are you most excited to get your hands on? Was there any announcements that you did not expect at all? Let us know in the comments.