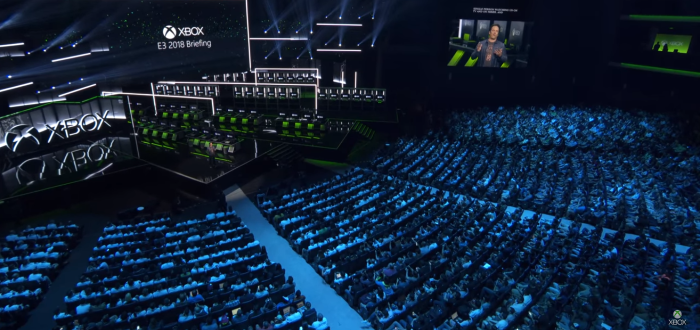 Xbox E3 Briefing Recap
Microsoft's Xbox E3 Briefing was something else. Fifty games were shown which included a mix of 18 exclusive games, 15 world premieres, the return of iconic game series and some pretty awesome games. The conference had a well paced rhythm to it, as it dotted in some information for Xbox Game Pass, ID Xbox titles and some future plans for the company.
Here is the breakdown of all the news for the Xbox E3 Briefing. Expect expanded news on a lot of these games in the coming days as more information in revealed to the public.
Halo Infinite
Let us start big with a concept trailer for Halo Infinite. It's currently in development at 343 Studios. It showed off the new Slipspace Engine, which gave us a thrilling glimpse into the future of the Halo franchise, leading it into new and unexpected directions. Halo Infinite will be available on Xbox One and Windows 10 platforms.
Ori And The Will Of The Wisps
Another eclusive title for Xbox One and Windows 10 platform is the sequel to the acclaimed Ori and the Black Forrest. This beautifully crafted 2D platformer has a gorgeous art style and is sure to packed full of puzzles, strange creatures and Metroidvania-esque gameplay. Ori and the Will of the Wisps will launch sometime in 2019.
Sekiro: Shadows Die Twice
The eagerly anticipated FromSoftware's next game was shown at the conference. Sekiro: Shadows Die Twice  follows a hard-hearted warrior whose mission is to rescue his master, a young lord, and exact revenge on his arch nemesis. It has fact-paced action centric gameplay, based on swordplay, jumping, stealth and blocking mechanics. It will be published by Activision and release sometime in 2019 for Xbox One, PC and PS4.
Fallout 76
Todd Howard of Bethesda joined proceedings and gave some more insight to Fallout 76. It is a prequel to all exisiting Fallout games. It is a huge open world is 4x size of Fallout 4's world and is based in West Virginia. Fallout 76 will release on November 14th 2018 for Xbox One, PC and PlayStation 4
The Awesome Adventures of Captain Spirit
Dontnod brings us The Awesome Adventures of Captain Spirit, where you play as Chris, an ordinary 10-year old boy who dreams of being a superhero. Chris has a big imagination that will take him on all sorts of adventures, but on this particular Saturday something truly extraordinary will happen to him. This stand-alone adventure that will also give you a glimpse into what the brand-new story and characters of Life is Strange 2 will be, but only if you're clever enough to piece the clues together! The Awesome Adventures of Captain Spirit will release for FREE on June 26th on Xbox One, PlayStation 4 and PC.
Crackdown 3
Recently announced that it was pushed to February 2019, Crackdown 3 showed off some action packed and destruction filled gameplay, with the help of narration from Terry Crews. The trailer showed off traversal of the world via your power suit and vehicles. Power-ups are dotted around the city, which helps you increase you power, jumping and destructive abilities. It will launch in 2019 and be available to play with game pass from launch.
NieR:Automata BECOME AS GODS Edition
The NieR:Automata BECOME AS GODS Edition comes for Xbox One on June 26th, 2018 and includes the action-packed 3C3C1D119440927 DLC, which features "Revealing Outfit" costume for 2B, "Young Man's Outfit" costume for 9S and "Destroyer Outfit" costume for A2. After completing new sub-quests in this DLC, you can enjoy playing the game while wearing these costumes from NieR Replicant. Sub-quests take the form of three different battle challenges at three different colosseums.
Metro Exodus
A gameplay trailer for the third installment of the Metro series, was shown off and it was stunningly beautiful. Unlike its predecessors spending the majority of time underground, Metro Exodus is set mainly above ground. You'll battle humans and mutated creatures with customisable weapons, while your environment changes from day to night. Metro Exodus will release on Xbox One, PC and PS4 on Feb 22nd 2019.
Kingdom Hearts III
A new world was showcased for Kingdom Hearts III in the world of Frozen. The trailer showed of glimpses of story and other worlds including Wreck It Ralph, Big Hero 6, Hercules & Tangled. Kingdom Hearts III releases on January 29th 2019 for the PS4 and for the first tie, Xbox One.
Sea of Thieves
Two sets of DLC was announced for Sea of Thieves. Cursed Sails will release in July and Forsaken Shores will release in September. Check out the trailer below.
Battlefield V
Experience human stories set against epic conflict, a never-before-seen portrayal of World War 2, and iconic Battlefield gameplay in Nordlys – one of the single-player campaigns in Battlefield V's War Stories. Assemble your Company of customised soldiers, weapons, and vehicles – then take them on an epic journey through the Tides of War. Battlefield V launches worldwide on October 19th!
Forza Horizon 4
Ralph Fulton spoke about all the features of the new Forza Horizon. It is set in Britain and will have dynamic seasons, a shared open world where you can meet a populated space with real life players in other vehicles. You can interact with players with shortcut  on d-pad
You can play solo or play co-op seamlessly, as everyone experiences at the world at the same time. Weather and seasons will play affect gameplay as a frozen lake allows you to explore new areas or rain causing mud and control to be hinder. Forza Horizon 4 releases on October 2nd and will be iincluded on Xbox Game Pass  the same day.
New To Microsoft Studios
Some big news from Phil Spencer, as he announced one new and four acquired game studios to the Microsoft Studios internal family. These include:
A brand new studio  The Initiative based in  Santa Monica.
Undead Labs (State of Decay)
Playground Games (Forza Horizon). They are working on an unannounced open world game.
Ninja Theory (Kung Fu Chaos for Xbox, Hellblade: Senua's Sacrifice for PC and PS4)
Compulsion Games (We Happy Few)
We Happy Few
After debuting as an Xbox Game Preview title at the 2016 Xbox E3 Briefing, We Happy Few 1.0, which includes an all-new narrative and community-driven improvements, will launch on Xbox One and Xbox One X (with 4K and HDR support) on August 10th, 2018. We Happy Few is a narrative-driven action adventure game set in a drug-fuelled, retrofuturistic 1960s England. Uncover the mystery of Wellington Wells as you play through the interwoven narratives of three moderately terrible citizens trying to escape from a lifetime of cheerful denial.
PUBG Update
Celebrate the present and peek into the future of PlayerUnknown's Battlegrounds. With new ways to play and new environments on the horizon, there's never been a better time to drop in.
Tales of Vesperia: Definitive Edition
Tales of Vesperia: Definitive Edition is a remaster of one of the most beloved roleplaying games ever created! This edition will contain characters and content never before seen in the west! Look for Tales of Vesperia: Definitive Edition, on Xbox One, PC, PS4 and Switch this Winter.
The Division 2
The Division 2 will be set in Washington D.C., where you will have to work together to free its streets from vicious enemy factions trying to seize its control. Check out the gameplay walkthrough below.
Game Pass
Ashley Speicher, head of engineering at Xbox Game Pass talked about the current catelogue of games. She also mentioned FastStart, a way to start games 2x faster on your systems. It will launch in the June update released later this month and will work on a small amount of currently released games.
1st party and 3rd party support for Game Pass and listed a number of title. New additions to the service and playable right now, include The Division, Elder Scrolls Online & Fallout 4.
ID@Xbox
A large array of ID@Xbox games were shown off and include glimpses at loads of games. Check the trailer below.
Shadow of The Tomb Raider
The first gameplay trailer for Shadow of the Tomb Raider showcases the high-octane action, inner conflict, and challenges that will lead to Lara Croft's defining moment. Check it out below. Shadow of the Tomb Raider comes to Xbox One, PC and PlayStation 4.
As she races to save the world from a Maya apocalypse, Lara must master a deadly jungle, overcome terrifying tombs, and persevere through her darkest hour before being forged into the Tomb Raider she is destined to be.
Shadow of the Tomb Raider will be available on September 14th, 2018 for Xbox One, PlayStation 4, and Windows PC/Steam.
Session
A new skateboarding exclusive title for Xbox One & PC called Session. it is made by Crea-ture Studios and was originally a Kickstarter funded project and billed as a spiritual successor to the Skate series. It's expected to come out in 2019.
Black Desert Online
Black Desert Online gets Xbox One beta later this year.
Devil May Cry 5
It has been 10 years since Devil May Cry 4 and a sequel to the main story has finally be announced. Devil May Cry 5 is coming from Capcom. It will have the return of Nero and Dante, as the frantic swordplay and combat looks glorious on current gen consoles. DMC 5 will release sometime in Spring 2019.
Cuphead DLC
The Delicious Last Course is a new piece of DLC for Cuphead. It will introduce Ms. Chalice, who had  brand new abilities. This DLC add-on adventure has a brand new island, new weapons & new charms. It's coming 2019.
Tunic
Tunic is a retro-esque visual, isometric action adventure about a tiny fox in a big world. Explore the wilderness, discover spooky ruins, and fight terrible creatures from long ago.
Jump Force
Bandai Namco's new title Jump Force, will see legendary manga heroes and villains from Dragon Ball, Naruto, and One Piece, be transported to our reality. Massive battles fill epic locales as good and evil clashes, while humankind hangs in the balance. The tagline Jump Force is UNITE TO FIGHT and it will release in 2019!
Dying Light 2
Chris Avellone was onstage to talk about the new Techland game, Dying Light 2. It will have a conversational choice system, which will allow for branching narrative as your choices will affect how the world and story play out.
Battletoads
A new Battletoids game was announced and will have three player couch co-op and will release in 2019. It'll be a 2.5D action platformer.
Just cause 4
Originally mentioned in a leaked Walmart Canada placeholder image, along with a number of games, Just Cause 4 was finally officially announced. Rico Rodriguez is back with an array of gadgets, including his grappling hook and wingsuit among others. You'll traverse a huge open world game, via foot, vehicle and wingsuit, as you battle both NPC's and the elements in a crazy physics based playground. The trailer teases interaction with tornadoes and lightning. It will release for Xbox One, PC and PS4 December 4th 2018.
Gears, lots of Gears
Rob Ferguson joined the stage for an announcement of an upcoming title from The Coalition.You could here the delight from the crowd. The announcement was Gears POP!. Partnering with Funko, The Coalition are making a fun mobile game , set in the Gears universe. It will release in 2019.
Not content with just one announcement, a total of three Gears games. Next up was the announcement of Gears Tactics, which takes the action packed world of Gears of War and turns it into a true PC turn-based strategy title. It will be set 10 years before the original Gears of War. It will be full of tactical movement, boss battles and customisable gear, team and weaponary. It will be exclusive on Windows platform.
Finally Gears 5 was show off with a trailer and shown off a story cutscene. Gears 5 will follow Kait Diaz as she has to go get answers for her recently ongoing nightmares, that she believes are messages. Check out the trailer below.
Microsoft Future
Phil Spencer discussed some of Microsoft's future plans which included:
Microsoft AI, interaction with the player will continue to get better
Microsoft Cloud is looking at bringing Microsoft game streaming to any device, be console, PC or mobile
The hardware team are currently in development for the next Xbox console
Hacked
One last game was revealed, as CD Project Red's new title Cyberpunk 2077 had a trailer play. The Xbox E3 Briefing was "Hacked" revealing some DOS prompt (and awesomely enough, the codes in the reveal, were actual The Witcher III: Wild Hunt Xbox game codes, free to anyone who figured it out) loading up the trailer.
The futuristic world of Cyberpunk 2077, is a narrative-driven, open world RPG set in the most vibrant and dangerous metropolis of the future — Night City. You play as V, a hired gun on the rise, who just got their first serious contract. In a world of cyber enhanced street warriors, tech-savvy net runners and corporate life-hackers, today is your first step to becoming an urban legend.
Wrap-up
The briefing was a very solid showing for Xbox. Along with the obvious sequels, lots of surprises were shown off. Microsoft's commitment to bolstering the 1st party stable is encouraging for the future. It seemed Phil Spencer was acknowledging the fact, there has been a small 1st party showing as of yet for the Xbox One. The games that are coming, look great and are sure to scratch the itch for any gamer in need of new games on Xbox One.
Keep an eye on TheArcade.ie for more on E3 news, as it releases.