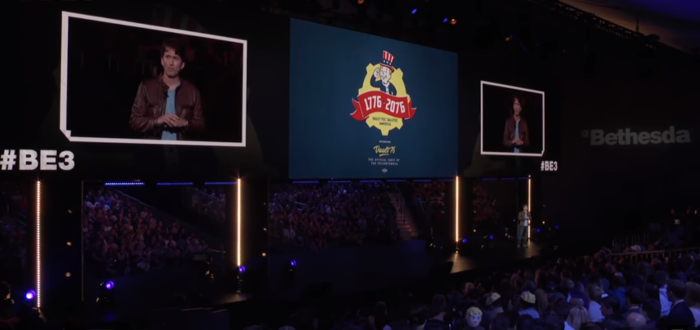 The Bethesda E3 Showcase is its fourth year. It has had some big game announcements and fantastically paced conferences. So how was this year's Bethesda E3 Showcase? Pete Hines begins with the event with a not-so-subtle dig at Walmart Canada, as the first game introduced was RAGE 2 (the game in which Walmart Canada leaked).
RAGE 2
After a live rendition of Andrew W.K.'s Ready to Die, which is the theme to the game, developers from both id Software and Avalanche Studios describe the open world chaos that mixes First Person Shooting with car combat, with crazy coloured visuals in a Mad Max-esque, post-apocalyptic world. RAGE 2 will release in Spring 2019 on PS4, Xbox One and PC. Check out the gameplay trailer for RAGE 2 below.
The Elder Scrolls: Legends
The Elder Scrolls: Legends will have updated interface coming soon. This is in conjuction with the announcement that The Elder Scrolls: Legends will be coming for PS4, Nintendo Switch and Xbox One. Play it now on PC, mobile o
The Elder Scrolls Online: Summerset
A new trailer for the latest addition to The Elder Scrolls Online was launched during the week. Some new content was discussed, as the next dungeon addition will be released soon, based on werewolves called Wolf Hunter and a story DLC called Murkmire, returning to Black Marsh. The Elder Scrolls Online: Summerset is available right now on PC, Xbox One and PS4.
DOOM Eternal
A short announcement trailer for the next DOOM was shown. Called DOOM Eternal, it summoned some awesome visuals with a pumping metal soundtrack. Little else is known about the game, other than the first gameplay trailer will be shown at QuakeCon on August 10th 2018.
Quake Champions
The original fast-paced multiplayer fragfest from id Software returns with Quake Champions, and for a limited time you can join the arena for FREE. You can download Quake Champions on Steam or Bethesda.net Launcher between June 10th-17th. If you log in during this time, you can stay and continue to play even after the event is over! You will see more at QuakeCon between August 9th-12th 2018.
Prey: Mooncrash
Prey: Mooncrash, is the lunar DLC for Prey that's available right now to download and play! In Prey: Mooncrash, fight overwhelming odds to escape the secret TranStar moon base where the enemies you encounter, the hazards you face, the goals you complete, and the loot you collect are different each time you play.
In a free update to Prey, fans can now indulge in three different modes: Story Mode, for those looking to casually experience the game's immersive narrative; Survival Mode, which will put your veteran cosmonaut to the test with hardcore hazards like oxygen levels and bleeding; and New Game +, which gives all players a whole new reason to return to Prey after they complete the game. Prey: Mooncrash and Prey: Digital Deluxe are available now on PS4, Xbox One, and PC.
Wolfenstein: Youngblood
A new Wolfenstein comes in the form of Yongblood, which  is a brand-new co-op game that takes place in 1980, 19 years after Wolfenstein II: The New Colossus. Wolfenstein: Youngblood will introduce the next Blazkowicz generation to the fight against the Nazis, as you play as one of BJ's twin daughters, Jess and Soph, as you search for your missing father in Nazi-occupied Paris. It will launch in 2019 on PS4, Xbox One and PC
BETHESDA VR
In addition to Wolfenstein: Youngblood and Prey: Mooncrash, both Wolfenstein and Prey announced brand-new VR offerings. You will take to the streets of Paris as an elite resistance hacker in Wolfenstein: Cyberpilot, and face off against mimics as they hunt to kill in the Prey: Typhon Hunter update.
Todd Howard Stand-Up
The charming and charismatic Todd Howard, was introduced to the stage, as he had a bevy of information for games coming from the multiple Bethesda Game Studios.
He started by taking a jab at Bethesda themselves, as he jokingly reveled that The Elder Scrolls V: Skyrim was coming to Amazon Alexa! The trailer featured Keegan Michael Key, as you explore Skyrim using the power of your own voice. As of now, Amazon have a listing for Skyrim Very Special Edition, which is released by Zenimax (Bethesda's parent company), so this spoof trailer may be more than what it seems. It also joked that Skyrim would come to Etch A Sketch and pagers, mocking the fact that Skyrim has been re-released on several devices lately.
Fallout 76
After the humorous video, the real showcase of games began, welcome you to Fallout 76, the online prequel where every surviving human is a real person. Work together, or not, to survive. Under the threat of nuclear annihilation, you'll experience the largest, most dynamic world ever created in the legendary Fallout universe.
You can play solo, but the world will seamlessly enter dedicated online servers if you want to play with others. Create and customise your character and take on the world of Fallout 76, which also gives you the opportunity to use or protect a number of nuclear missiles dotted around the map.
There will be a Power Armor Edition for Fallout 76, along with a BETA coming soon. The full release will come November 14th 2018 on PC, PS4 and Xbox One.
Fallout Shelter
It was revealed that Fallout Shelter was coming to PS4 and Switch. It is available right now to download and play.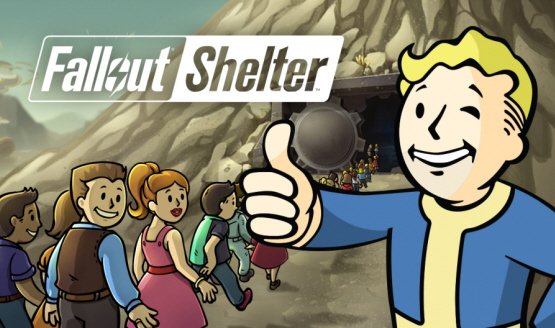 The Elder Scrolls: Blades
Todd then revealed and showed a gameplay demo of The Elder Scrolls: Blades. This new title is designed for mobile devices and is a massive first person role-playing game. It was to to be coming to other platforms in the future. It's coming this Fall for free and is available to pre-order now. (video via GameSpot and Bethesda)
Starfield
Discover Starfield, the new space epic currently in development by Bethesda Game Studios. Starfield is the first new franchise in twenty five years from the acclaimed developers of The Elder Scrolls and Fallout series. It was stated as a next generation singleplayer game.
The Elder Scrolls VI
Finally the last teaser of the Bethesda E3 Showcase was for a fan demanded game, The Elder Scrolls VI. There was no subtitle, platforms it will appear on or release window given. Expect to see more next year.
To Sum Up
Bethesda's E3 Showcase was interesting in aspects. RAGE 2 and Wolfenstein: Youngblood looked good, while I am eager to find out more on DOOM Eternal and The Elder Scrolls VI. Fallout 76 was described well, but would want to know more about the online mechanics and wheather things like the V.A.T.S and death systems will play out in online mode. I will be keeping an eye on the upcoming QuakeCon for some more information in August.
Keep it here on TheArcade.ie for all the E3 updates. Let us know what you want to see in the comments.