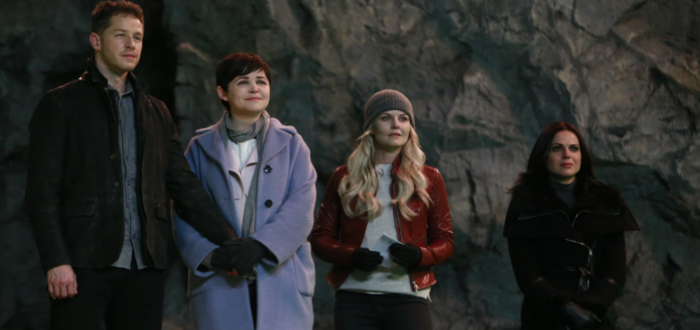 After seven long seasons and almost 150 episodes, the once-popular Once Upon A Time has been cancelled.
ABC confirmed the cancellation and has said that the final episode will air in May. President of ABC Studios, Patrick Moran, said: "Once Upon a Time has been an amazing journey for all of us at ABC Studios and for fans around the world. We're so proud and appreciative of the hard work and creative talent that Eddy Kitsis, Adam Horowitz and their cast and crew brought to this show for seven magical seasons."
Creators Edward Kitsis and Adam Horowitz said, "Seven years ago, we set out to create a show about hope, where even in the darkest of times, a happy ending would always be possible. But we never imagined the happy ending that was actually in store for all of us — years and years of adventure, romance, magic and hope. We're so grateful to our brilliant collaborators – the cast, crew, and writers — as well as our partners at the studio and network for making this journey possible. But most of all, we want to thank the fans. Their fierce loyalty and devotion was the real magic behind Once Upon A Time. We hope they join us for these last few hours as we journey to the Enchanted Forrest for one more adventure."
After several of the show's leading characters (Emma Swan, Snow White, Prince Charming, Belle, young Henry) left at the end of season six, ratings dropped to an average of 2.5 million total viewers and a 0.5 rating per episode, but the change to a Friday night time slot was what really foretold its inevitable cancellation.
After the departure of Emma Swan and the Charmings, Storybrooke was left behind and the seventh season picked up in Seattle, where a brand new curse was brewing. It sounds very familiar, but with mostly new characters, and old-favourites Regina and Rumplestiltskin still remained to anchor the series as well as an adult Henry (played by Andrew J. West).
If you've caught a few episodes here and there, or you stopped watching after around season 5, then you might be confused as to how the show could ever possibly have continued without Emma Swan. Well, I thought the same, but although the reboot was expected to be terrible, it actually isn't. Season 7 introduced some characters that fans had wanted to see for a long time, like Princess Tiana and Rapunzel, and introduced stories that – although familiar – actually had some potential in them.
Many people won't care too much about this (and many more are probably surprised it didn't get cancelled sooner!) but I for one am pretty bummed out about it. I watched it from the very beginning and, like most people, absolutely loved it. The show was a break-out success, and although the quality of the writing dipped up and down over the course of its run, it was always fun and I loved how it stuck to its core message that even in the darkest of times, there is light.
The show is currently on its mid-season break, but it will return to finish its final season on March 2.
What do you think of the cancellation? Are you sickened? Do you think it should've happened earlier? Let us know your thoughts in the comments!