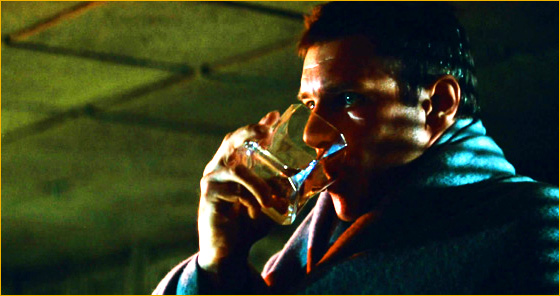 Movie style whiskeys are very popular right now. Kingsman: The Golden Circle has a bourbon to accompany its release and Blade Runner 2049 is apparently following suit. Any Blade Runner fans will know that Rick Deckard loves his booze, especially whiskey. Pursuing Replicants is thirsty work, and you want the ideal beverage to chase it down. Consequently, it seems like a pretty good idea to release a signature drink to accompany the new film. Johnny Walker is responsible for this special edition drink, "Johnnie Walker Black Lable Director's Cut."
Johnnie Walker describes the product with the following statement.
 "Thirty-five years on from being the spirit of choice in cult sci-fi classic Blade Runner, Johnnie Walker Black Label returns to the big screen in its highly-anticipated sequel Blade Runner 2049…The experimental blend is inspired by Villeneuve's Blade Runner 2049, and is presented in a futuristic bottle.
With our trademark smokiness and a contemporary twist, Johnnie Walker Black Label The Director's Cut is a rich, smooth blend with aromatic and vanilla flavours and is bottled at 49% ABV as a nod to the futuristic period in which the film is set."
The 49% is a particularly nice touch. Unfortunately, the whiskey will be rather pricey due to its limited run. Only 39,000 bottles will sell globally so it's definitely a collector's item. Each bottle costs $89.99, but I must admit it's tempting! If our readers drink half as much as Rick, then I reckon the bottle's a good investment. Regardless, this marketing is definitely helping to build hype for the film's upcoming release.
Ultimately, the brand is catching attention, which is the important thing. Personally, I feel like whiskey preference should be part of the Voight-Kampff Test. If they chug bourbon instead of sipping, that's a Replicant! How many ice-cubes do they prefer? Only a soulless killing machine would drown a good whiskey in ice. With enough imagination I'm sure Johnnie Walker is the key to human-Replicant relations. The possibilities are endless.*
The film will hit cinemas in October 6th. If you buy the whiskey during its September release, you'll be in plenty of time. Although you may want to check whether your local cinema permits whiskey on premises. We can't all be Harrison Ford, more's the pity.
* Johnnie Walker didn't pay me for that sentence. I'm just that kind of guy.