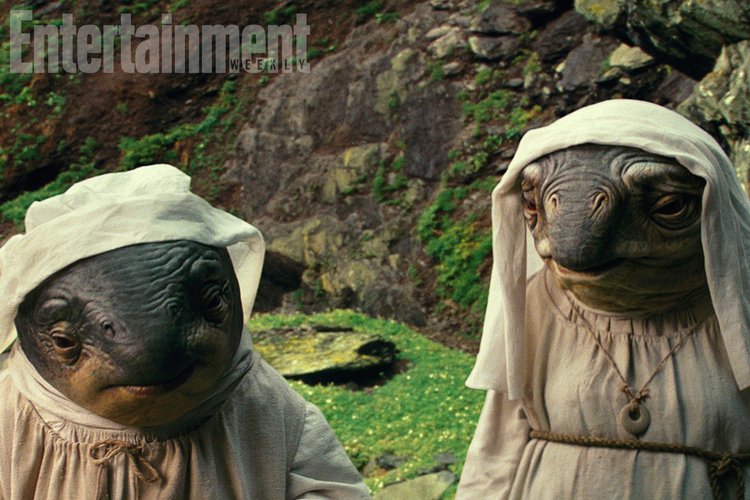 Recently, Star Wars fans all over the internet found themselves overwhelmed in a sea of cuteness. This was due to the newest residents of a galaxy far far away, the Porgs.
But it seems the Porgs are not the only new alien race we are set to meet in Star Wars: The Last Jedi however. Speaking this week to Entertainment Weekly, Star Wars: The Last Jedi director Rian Johnson spoke about another new alien species known as The Caretakers:
"They're kind of these sort of fish-bird type aliens who live on the island. They've been there for thousands of years, and they essentially keep up the structures on the island".
"They're all female, and I wanted them to feel like a remote sort of little nunnery. Neal Scanlan's crew designed them, and costume designer Michael Kaplan made these working clothes that also reflected sort of a nun-like, spartan sort of existence."
The Caretakers, live on the island of Ahch-to (in reality the beautiful Skellig Michael off the coast of Ireland) with Luke Skywalker, who is in self-imposed exile, where Rey finds him at the end of Star Wars: The Force Awakens.
According to Rian Johnson, The Caretakers communicate in "a blubbery sort of Scottish fish talk" and are said to be unhappy with Luke Skywalker's being on Ahch-to, and merely tolerate his presence there.
The Caretakers get there name from the fact that they having been taking care of the Jedi temple on the island for thousands of years and are believed to be force sensitive. Rian Johnson elaborate a little further:
"You get the sense they did at some point or maybe they occasionally do [return to the sea,] but when we see them, they're land creatures. They're these big matronly creatures, but they have these little skinny little bird feet. They were really fun to work with on set."
It will be interesting to see how intrinsic to the plot Star Wars: The Last Jedi the Caretakers actually end up being and if the next instalment in the Star Wars saga have any more new aliens to marvel us with.