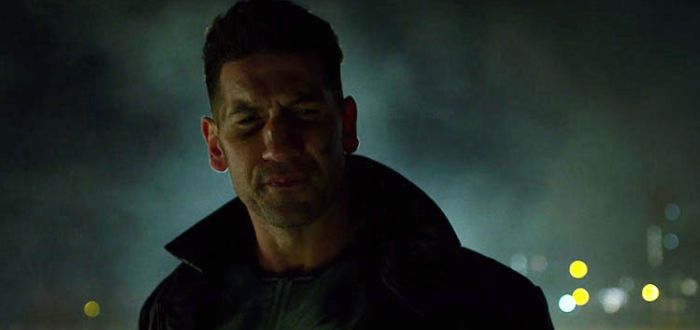 First Look at Jon Bernthal in Punisher set
Jon Bernthal has been busy shooting The Punisher for Netflix over the past few months. Every now and then photos on set have surfaced, but they seemed to picture Frank Castle incognito. He had a beard and he looked like he was working construction. None of them in his punishing outfit.
But this week some photos of him on full Punisher garb have appeared on Twitter, and we're sharing them with you. And while there's a poster making the rounds, that poster is fan-made, though it looks convincingly real.
Frank Castle is Back in Action in New Punisher Set Photos #TV #Movies pic.twitter.com/yvg3zPEZMd

— TV & Movies Planet (@tvmoviesplanet) April 13, 2017
The Punisher. #FrankCastle pic.twitter.com/jEQdQY7kMN

— Fantastik Sokak #SDCC2018 (@FantastikSokak) April 13, 2017
Frank looks a bit beaten, but then again he consistently looked beaten in season 2 of Daredevil. The costume is slightly different than what he wore on the Daredevil finale. It seems to mix elements of the Punisher MAX comics and the classic Punisher outfit. He's wearing a bulletproof vest, but the skull is oversized. And it looks like the teeth of the skull are magazines for his weapons, like in the comics. I'm a bit disappointed he's not wearing a trenchcoat in the photos though, but hopefully he'll have one in the show.
Marvel's The Punisher is supposedly premiering this year, altering Netflix plans of having only two Marvel shows on their roster per year. Presumably this will premiere after The Defenders, which makes me wonder if Frank will make an appearance there.
All in all, Jon Bernthal as The Punisher was one of my favourite parts of season 2 of Daredevil. So I'm really looking forward to this series, especially since Steve Lightfoot (who was an exective producer and writer in Hannibal) is the showrunner, and because they seem to be taking stuff from Garth Ennis' run at Punisher Max.
Angry Spaniard, adoptive Irishman. Writer, reader, tea drinker and video game player/designer.