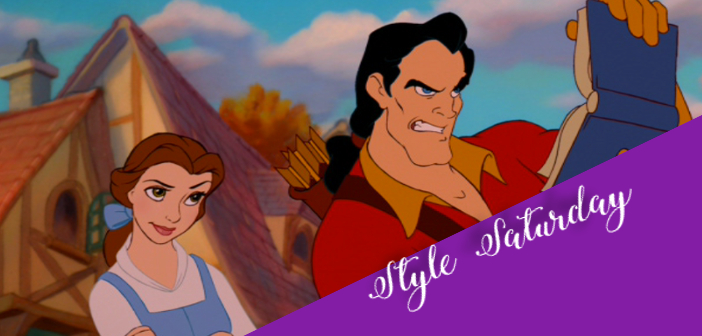 Tale As Old As Time Looks – Style Saturday
Anyone that knows me knows that Beauty and the Beast is my favourite film of all time, not just my favourite Disney film. It's one that has stuck with me since I was taken to see it as a child. It was one of my first films in the cinema, one of the first films that I remember watching with my family and one that I have cherished since that very day. And with the release of the live action film creeping up on us, I can't help but jump at the chance to base a Style Saturday on two of the film's characters. So get ready for a tale as old as time, say bonjour to Belle and maybe swoon a little at Gaston.
Belle
Belle is not only the protagonist in the film, but she's also my favourite princess and while most people immediately think of her beautiful golden yellow ballgown, I can't help but fawn over her village dress she wears for sometime in the film. It's simple, it's beautiful and it's also elegant in a way. It's also a colour palette that seems to be very recognizable as Belle that it's quite easy to put together an outfit that screams Belle.
With blue and white it was fairly easy to choose which way to go with this look, although trying to decided between a dress or a two piece in a skirt and a top was a little more difficult. In the end I decided to go for a white sleeveless blouse with a waisted skirt in a light blue. Black flat pumps are perfect to show off a little leg with this outfit. Accessories make all the difference with a rose necklace and a bag in the shape of a book is just perfect for Belle. The finished piece is a bow secured at the back of the head, just like Belle's in the film.
Vest €17, Skirt €11, Shoes €9.51, Bag €46, Necklace €46, Bow €5.92
Gaston
Everyone loves Gaston, well except for Belle and anyone who despises arrogance and an ego the size of… well, Donald Trump comes to mind. But unlike POTUS, Gaston is a villain we all love to hate and he's another character that is very recognizable when it comes to his colour palette just like Belle.
Immediately when we think Gaston, we think of red and yellows, but don't worry I'm not about to suggest that you pick up a pair of Marigolds and wear them out to see the film. For this look I've gone down the subtle route and have chosen a nice red shirt, a pair of black jeans and a brown belt. Of course it's all in the little touches for this one, and when you team it all with a pair of brown boots, and a gold watch, well you're almost there. The last little finish a deer antler necklace on a piece of brown cord, and there you have it; a subtle, modern Gaston.
Top €23, Jeans €35, Belt €28, Boots €46, Watch €5.66, Necklace €38