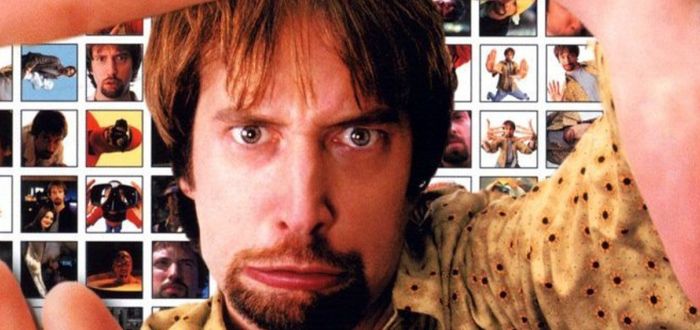 Freddy Got Fingered – Screen Savers
Oh god. Where do I even start with this? I re-watched Freddy Got Fingered for the first time in about 15 years and words fail me. I will try to gather some coherence to talk about it, but deep down I believe words aren't enough to describe this film.
"Ding dong! I'm a sexy boy!"
Freddy Got Fingered the brainchild of Tom Green. For some reason he was popular many years ago, and it led to him making this film. I mean, the man was even married to Drew Barrymore and she has a small role here as well!
What's it about? It follows Gordon Brody. He leaves his parents' house in Portland because he has a job in Los Angeles. However, the job is an excuse for him to show his work to a producer because he dreams of being an animator. Unfortunately, the producer tells him that while his art is good, his plots make no sense and tells him to quit his job and go back home to work on his art. Sadly, his father doesn't take this well at all.
It sounds like a simple premise, but I forgot to mention that Gord is a lunatic. Ten minutes into the film, as he's on his way to LA, he drives past a stud farm and sees a horse getting an erection. So he jumps out of the car, goes to the horse and grabs its penis while he screams "MA! LOOK AT ME! I'M A FARMER!" and that's not even the worst thing happening in this film.
"He's 28 years old and he can eat a chicken sandwich. Very Impressive. Mike Fitzgibbon's son is a nuclear physicist, and my son can eat a chicken!"
Still, that doesn't mean that Gord is the only normal character in this film. His father is even more of a lunatic, and I'm not exaggerating here. But to be fair, if my son were Tom Green's character in this film I would've lost it years ago too, so I understand Rip Torn's plight here.
Tom Green's lines are hammy most of the time but they feel like nothing when you compare them to Rip Torn's. This role suited him well, especially if you consider that some years ago he was arrested for breaking into a bank at night, while drunk. He thought it was his house, apparently. The other actors are so-so; the guy who played Finch in American Pie is the titular Freddy, but he's not in the film that much.
I know I'm not really saying much, but trust me I am just at a loss for words. This movie has fried my brain. I had forgotten it had that effect. There are a lot of things that caused that, like the romantic subplot. Gord falls for a nurse and he deceives her by telling her he's a broker or something like that. He realises she's in a wheelchair, which makes him feel weird but dates her anyway and then things get weirder. She asks him to hit her in the legs with a bamboo rod, and then goes to, pardon my French, "suck his cock" because that's all she cares for.
Literally, in the moment the film gives us a great declaration of love she just says "I just want to… suck your cock."
"Daddy would you like some sausage? Daddy would you like some sau-sa-ges?!"
The film became infamous after it came out. When Roger Ebert reviewed it, he wrote the following: "This movie doesn't scrape the bottom of the barrel. This movie isn't the bottom of the barrel. This movie isn't below the bottom of the barrel. This movie doesn't deserve to be mentioned in the same sentence with barrels." It also won five Razzies, including Worst Screen Couple (Tom Green and any animal he abuses).
However, I find certain parts of it funny. There's a running joke about a kid getting hurt in gruesome ways that always gets me. And there's also the scene to end all scenes!
https://www.youtube.com/watch?v=8ZYrutVyZ-A
This is how your brain will feel after the movie. I'm not sure if it's good or bad, but I'm going through this now.
Angry Spaniard, adoptive Irishman. Writer, reader, tea drinker and video game player/designer.