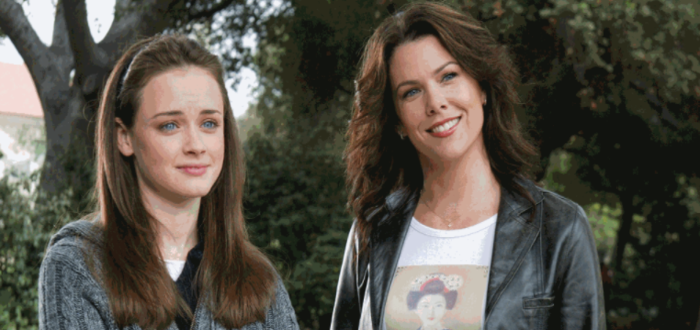 Gilmore Girls Classic Series – ReWatch
With a four part return to Stars Hollow being the latest in Neflix's slew of specials, there seems no better time to watch the old series. The show's recent 15th anniversary started the whirlwind news that almost the entire cast were returning and fans couldn't be happier.
With seven seasons and thousands of confusing cultural references, it may seem a mammoth task to re-watch, but once you sit down you'll find it's hard not to watch an entire season. The following is a relatively spoiler free guide to the show.
Netflix rarely has a decent if not totally ridiculous synopsis for anything but the one for the original series is pretty spot on:
Fiercely independent single mum Lorelai raised gifted, Ivy League-bound daughter Rory amid a continual stream of quick-witted repartee.
Although breaking the show down to its absolute bare bones, this description captures Lorelai's stubbornness and the driving force of the first few seasons. It also hints at the heart of the show; all those smart jokes and references. I myself can say with honesty that I get nearly none of the references, but it doesn't make the show any less heartwarming, witty or the characters less endearing.
Lorelai and Rory often show themselves to be self-centred, naive or even bitter, but this only strengthens their relatability. The original series spans seven years, much like the Harry Potter series, and by the end there's a true sense you lived their lives. There's very few spoilers in here but it's safe to say that even if you're a Gilmore newbie, it's time to get ready to pick a team!
Season 1
The first season is all about new beginnings. Rory, who dreams of attending Harvard, sees the first step to making it a reality: She is accepted to Chilton, which is an expensive private school who's reputation and extra-curriculars will help with accessing the Ivy Leagues. The brightest in Stars Hollow High, Rory struggles to outshine those with several years head-start in fancy school. Lorelai also needs to start again, but with her estranged parents who she hasn't spoken to much since she had Rory at 16, as private school costs top dollar. Through Rory's entry into the school she also begins meeting new people and love interests.
Season 1 features Supernatural's Jared Padaleki and Chad Michael Murray in some of their earliest work. The early 00s haircuts and fresh faces do not disappoint. If that wasn't enough to throw you back, the hundreds of era references will. The references aren't limited to the noughties, however, as the ladies have great taste in music and film from decades past.
Other well loved characters we start getting to know include Ms Patty, Luke Danes, Sookie St James (the now ultra-famous Melissa McCarthy) and Kirk (although he is not Kirk yet!). They add flavour to the the town, even with some of their small town gossiping.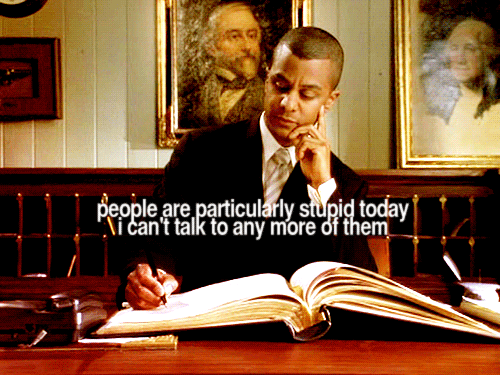 Season 2
This season comes back almost ready to start the school year again, with lots of new changes afoot. Just when things are going okay with her parents, Lorelai's love life shakes things up. This, and Emily and Richard's general disapproval, is an important feature of this series. What appear to be perfect love matches are questioned and another of the shipping teams are formed as Milo Ventimiglia joins the series to cause trouble. Rory realises she needs to prepare more for applying for college, both in terms of extra-curriculars and appearing more social.
Thankfully the show doesn't sell its soul and presents the idea that it's okay to be a bit introverted. Rory's dad Christopher also causes more trouble. Basically this season shows how circumstances with Lorelai's parents have made her slow to trust happiness and Rory has a lot of that fire inside her that caused her mum to rebel in her teens.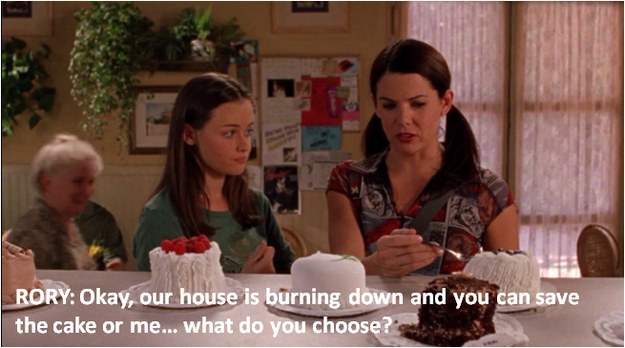 Season 3
The third season really digs into the college preparation theme. Rory enters her final year of high school. Tough decisions and growing up are a huge part of this season as Lorelai realises she can't finally begin a life with Christopher and Rory realises her life, and relationships will change when she goes to Harvard. Rory drifts somewhat from her boyfriend Dean and best friend Lane while she prepares for college and becomes more friendly with Chilton classmate, Paris.
She also finds much in common with recent newcomer Jess, to the deep jealousy of Dean. Relationships are complicated and it's a universal theme that college changes people and can sometimes end relationships. The season is quite a dramatic one as Rory and Lorelai go through more than one possible boyfriend each.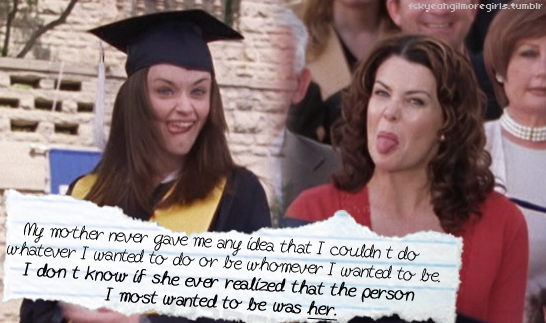 Season 4
The Gilmore girls return from their much planned Europe trip to find that University induction starts earlier than they planned. No more knowledgeable about European geography (they think they can get a train from the UK to Ireland), they have to cram a week of lasts into a day or two. Rory begins to come into her own in this series after a bit of adjusting to not living with her mother. Although living (and travelling) with Lorelai is more like with a teen friend, eating takeaway and refusing to do laundry, living away from home is still a huge adjustment.
Despite all the changes, Rory doesn't quite detatch herself from her past, nor does Lorelai remove herself from her parents, even when the Friday night dinner requirement no longer stands. One big change for Lorelai is the beginning to come together of her plans with Sookie to open an inn.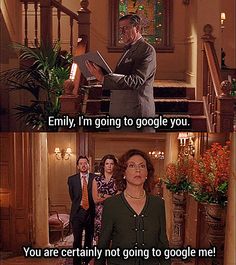 Season 5
Now is the season of big changes. Lorelai's inn is up and running but it's not as plain sailing as she and Sookie hoped. A romance the fans have yearned for emerges and another is not as picture perfect as we'd hoped. A few more contenders come in for both, and as usual mess with life for both ladies. One thing I don't like about the show is how either men influence Rory's behaviour or other people think they do. Rory's academic career isn't as straight and narrow as it once was and Rory represents the average college student – a little bit wild. She also represents the college experience; not everyone succeeds at it straight away.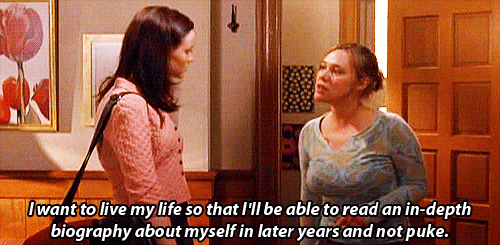 Season 6
The second last season is full of shocks. Rory makes a shock decision, Lorelai and her long time boyfriend get a shock that could split them up. Rory's old time bestie Lane moves forward in her life in a way Rory doesn't seem to think she ever will. The Gilmore girls are separated by more than space for the longest time ever. Things seem to be at an all time low. There is definitely the feel of the cold hard realities of life. It loses some of the shine of the show but is to be the last season directed by the Palladino creators.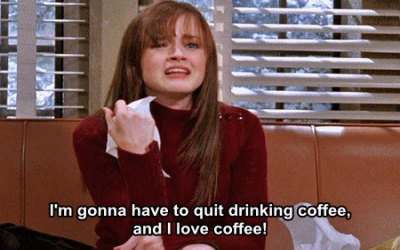 Season 7
After some mishaps, the pair seem back on track for a happy ending. Rory's father is back in town to cause even more trouble, but his inability to commit in the past doesn't help his chances. Rory is in her final year at university and her future looks bright, particularly since she moves away from letting her love life dictate her life like in previous seasons.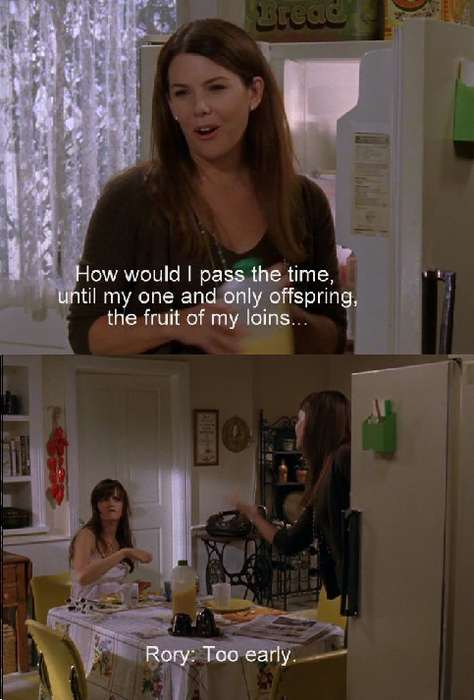 Christmas Binging
If you're looking for a series to binge over the holiday season, please do yourself a favour and choose Lorelai and Rory. Their relationship, and Lorelai's with her parents, teaches one that family life isn't all plain sailing and to appreciate the things you have. It's also a fiercely intelligent show so if you want to know about cooler music and film, this is a one stop shop. Rory's reading references alone will keep you busy this holiday season, although if you haven't read Anna Karenina and plan to, avoid season 1 episode 16.