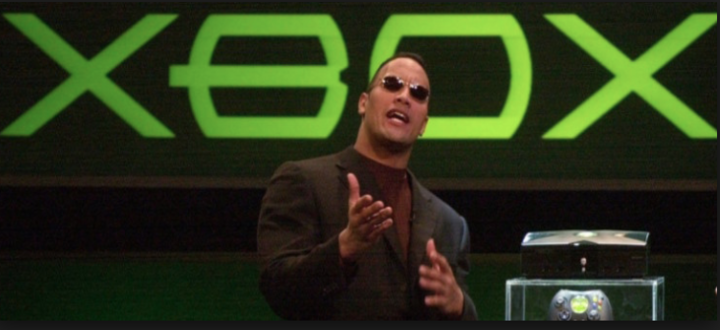 It's always great when multi-million dollar companies try to shoehorn in Hollywood's finest to promote or feature in their products. Historically, celebrities have had a tumultuous relationship with marketing video games due to lack of interest or media training, but it's always fun to see them have a stab at acting as though they care.
The Rock – Xbox Pre-Launch Promos
Somewhere in the mix of an early 2000s trance-rock haze we find Rock 'The Dwayne' Johnson talking about how the Xbox is just as cool as he is. Not a bad idea to hire a wrestler blessed with the gift of gab like The Rock.
Powerful? The Rock is that. Exhilarating? Yeah he's that too. The Master Chief? Well, no, but we never do see what's under Spartan-117's helmet now do we? Bam. But in all seriousness, outside of a WWE game or two, what does everyone's favourite Scorpion King have to do with the Xbox? I guess we'll never know. What I do know is I've played my role.
Jason Derulo – Ubisoft E3 Conference 2015
What better way to promote a dancing game than hiring professional dancers and celebrities who can bust a move better than the actual Just Dance playerbase? R&B artist Jason Derulo proved this during Ubisoft's E3 conference last year while performing Want to Want Me during a Just Dance 2016 segment. However, not even Jason Derulo nailing lines while dancing could keep the crowd caring. When Derulo tries to bring conference host Aisha Tyler to dance onstage, she playfully rejects him as a sort of topping off to the cringe-inducing segments Ubisoft are known for putting together.
Jamies Kennedy – Activision E3 Conference 2007
Nowadays, Jamie Kennedy isn't exactly the most A-List actor out there with roles in Scream, Kickin' It Old School and Son of the Mask. But that didn't stop Activision from giving the actor/comedian the reigns to one of the biggest train-wrecks E3 has ever seen. Kennedy's lack of knowledge about games combined with one too many beers led to insulting the crowd and cracking worse jokes than a Jeff Dunham show. Kennedy still hasn't gotten over the criticism he's received for his performance given his lashing out at writer Gary Whitta and analyst Michael Pachter.
50 Cent – 50 Cent: Blood on the Sand
Most rappers in video games hoped for a spot in whatever Def Jam game EA felt like putting out, but not 50 Cent. He had to have his own game starring him and G-Unit as they violently parade through a wartorn Middle Eastern country. Blood on the Sand proved little to be other than an awful Gears of War clone, but critics pointed out just how phoned in the voice acting performances of 50 Cent and the fellow members of G-Unit are. Check it out.
Usher – Xbox Easter Message
As the sun sets on this list, we look inward at ourselves, and also at Usher. A known scholar of R&B with hits like 'Yeah!' and 'Burn', Usher warmly sits us down to talk about his love of Easter. A man unashamed of the things he loves, the love and care in his words really convey the true appreciation he has for the holiday in question. As we've yet to see another Dance Central game arise, I doubt we'll see such a video of genuine affection for a holiday such as this ever again.