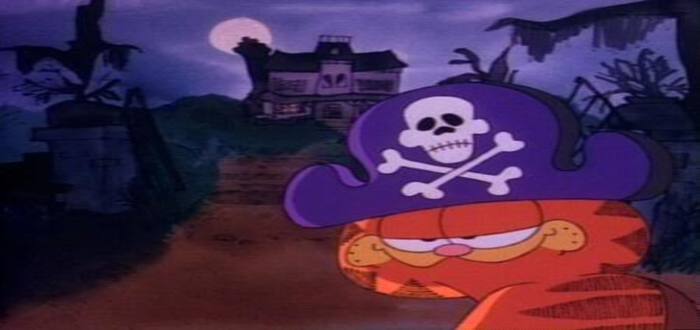 My Favourite Hallowe'en Specials – ReWatch
Hallowe'en really does not need to have any TV specials. It's not a TV holiday, not when you can have horror movies and bags of sweeties as a delightful substitute. No, it may not need them, but I'm glad they exist as, like the day itself, they are all about fun. No sentiment, no morals, no learning, no hugging. Just pure enjoyment. Here are some of my favourites.
Bottom – Terror (1995)
This 90's sitcom by alternative comedy veterans Rik Mayall and Adrian Edmondson is really best viewed as a kid's show. It's absolutely not suitable and you would not want your children watching it, but that's what makes it such a great show for youngsters. Richie and Eddie devise a plan to raise a lot of money for a Hallowe'en orgy. First by trick or treating and later by summoning Satan himself. Incontinence, exploding vegetables and flammable farts fill in the gaps between their trademark violent slapstick.
Boston Legal – Witches of Mass Destruction (2005)
In a world of litigation and political correctness, not even Hallowe'en is safe. Shirley (Candice Bergen) and Denise (Julie Bowen) are hired by two sets of disgruntled parents who want to ban a primary school Hallowe'en pageant for religious reasons. The Christian parents think the whole day is evil while the Wiccan parents feel it discriminates against witches. The school's depiction of an ugly, cackling witch does little to impress the humourless parents. My favourite moment of he episode is when the judge gives his verdict and really tells us the true meaning of Hallowe'en. Plus Crane, Poole and Schmidt's annual costume parties are always fantastic.
Malcolm in the Middle – Halloween (2005)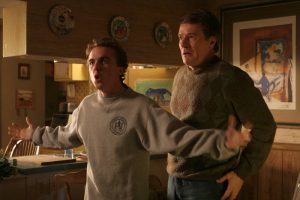 Like every episode of this staggeringly brilliant show there are several different storylines happening at once. Lois (Jane Kaczmarek) gets stuck at work thanks to a shoplifter and misses Jamie's first trick or treat. Reese (Justin Berfield) and Dewey (Erik Per Sullivan) bring him instead but unfortunately they end up being chased by an angry victim of an egging and their little brother is mislaid. The best story though is about Hal (Bryan Cranston). After finding out his home was once occupied by a vicious serial killer he becomes convinced the ghosts of his victims are haunting him, despite Malcolm's (Frankie Muniz) best efforts to calm him down. Watching Bryan Cranston having a hyperactive meltdown is always hilarious. This is arguably the best example.
Frasier – Room Full of Heroes (2001)
Opinion is divided on this subject but for me the best costume parties are ones with a theme. It makes people actually put some thought into their outfit and not just go as whatever they feel like. Some say that's missing the whole point but anything which encourages creativity is fine by me. Dr. Frasier Crane (Kelsey Grammar)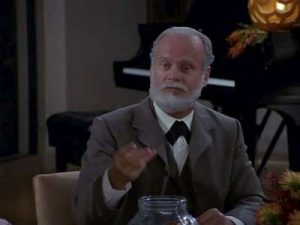 takes a lot of pride in his work as a psychiatrist but he is not beyond throwing a wonderful costume party for his friends and co-workers. Being a pompous egoist he does unfortunately have a problem with over thinking things. The theme for his costume party is "Come as your Hero". A great idea. But being Frasier, he insists on his guests providing a psychological basis for their choices and to explore the depths of their psyche. Yay. Fun.
Modern Family – Halloween (2010)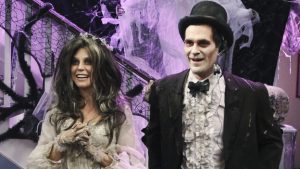 To be honest, I love all the Hallowe'en episodes of this show because of Claire (Julie Bowen). It's so refreshing to see a mature adult who lives for Hallowe'en the way she does. I'm picking the first special for three reasons; Claire's impassioned speech about why she loves to celebrate Hallowe'en, Gloria (Sofia Vergara) attempting an American accent and Mitchell's (Jesse Tyler Ferguson) unfortunate situation involving a Spider-Man outfit. It's hilarious. As he said himself to The LA Times "I will never in my life be cast in a movie where I am able to wear a super-hero costume and perform my own stunts. It was like I got to live a dream for a day."
Garfield – In Disguise (1985)
"Hallowe'en is my kind of a holiday. Not like those other stupid holidays. I don't get pine needles in my paws, there's no dumb bunnies, no fireworks, no relatives, just candy. Boom. You go out, you get candy. It's as simple as that."
I love Garfield.
What are your favourite specials? Let us know in the comments!