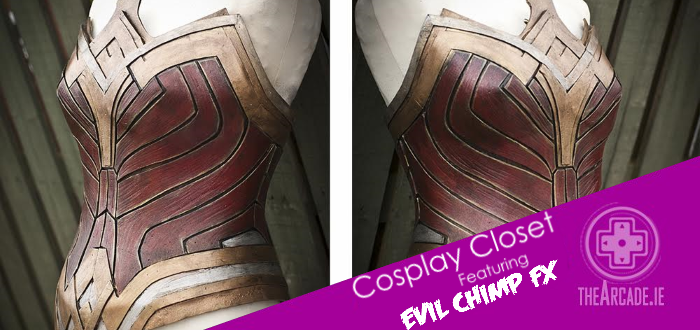 This week we chat to Dave Cullen, who runs his own studio part time called Evil Chimp FX, and is based near Tullow, County Carlow. Dave is going to walk us through how he created his fantastic Wonder Woman costume, which appeared at this years Dublin Comic Con 2016, as well as give some advice and tips to people who want to get into making their own props and costumes.
Brian – Hi Dave. Thanks for taking the time to talk us. First, Can you tell us your background in SFX and what got you interested in SFX?
Dave – I've always been a Sci Fi fan (Star Wars, Terminator, Planet of the Apes) but it wasn't until Halloween 2006 that I got involved in costume/prop building. I discovered that there was a huge market for replica props and costumes, especially high end screen accurate stuff. Boba Fett was the first screen accurate costume that I put together from various suppliers around the world, it was from then on that I decided to make my own costumes from scratch.
B – What is the process for picking projects?
D – I am a big fan of creature/alien makeups, gore wouldn't be my thing. Most of the projects I have taken on have been for the love of the character or prop and for my own personal interest, not for resale! Rick Baker is a huge influence and I love everything he has been involved with, especially apes and other hairy beasts. Some I have taken on as projects, others I am still building up to.
B – What are the steps you go through before starting a project?
Reference images are extremely important especially being involved in prop replication, all the design work is done so I am trying to get the look as close to the real deal as possible. Cost is also a major factor, some costume materials are quite expensive. Time is another, some of the smaller projects can be done within a week, others can take months (Wookiees for example)!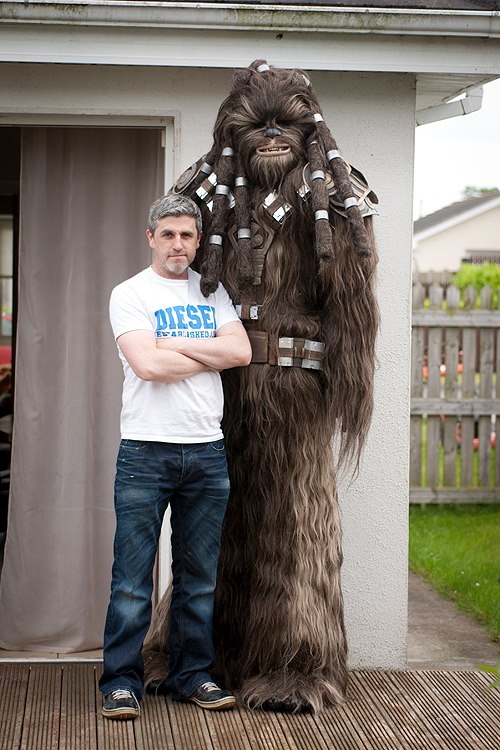 B – We are taking a look at your work on Wonder Woman, which appeared at this years Dublin Comic Con. Talk us through the process of how you designed and made this costume?
D – The costume is made from EVA foam (craft foam and Yoga mats). As said before, the design work is done (with reference images) so the first step was to make patterns that can be cut out of foam, it is pretty much the same process that a tailor or seamstress would use. A simple body cast was made using tinfoil and duct tape that can be used to draw the outline of the costume and to trace out details.
Once the patterns are done, the shapes are cut out of EVA foam, in this case I used 2mm and 5mm then glued together with contact adhesive.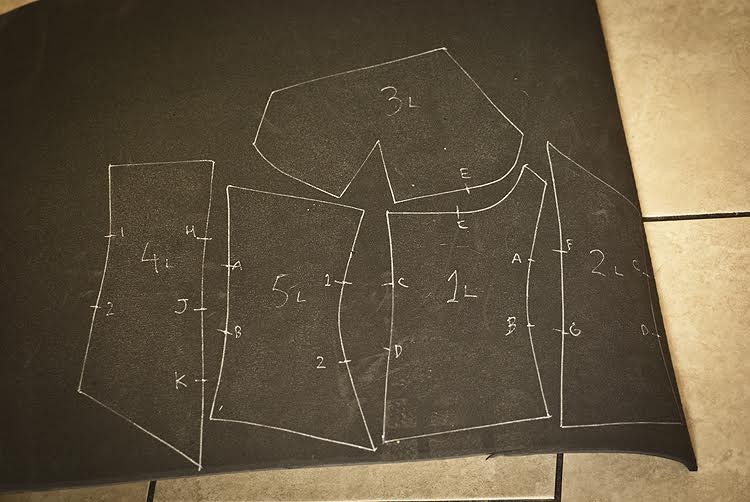 Once everything is in place, the entire piece is sprayed with plastidip rubber to seal the foam and for a base layer to paint on. The paint is a combination of Halford car body paints and acrylic washes of various golds to build up colour and depth.
The costume was then given washes of black and brown acrylic paint (most is wiped away) to give an aged/weathered look and then sealed with clear lacquer.
The final process involves strapping the armour parts together with nylon webbing and velcro, and belt studs to secure the leg armour!
Final image of the finished Wonder Woman outfit worn by Tara Moore at Dublin Comic Con 2016. The photo was edited by Ken Coleman.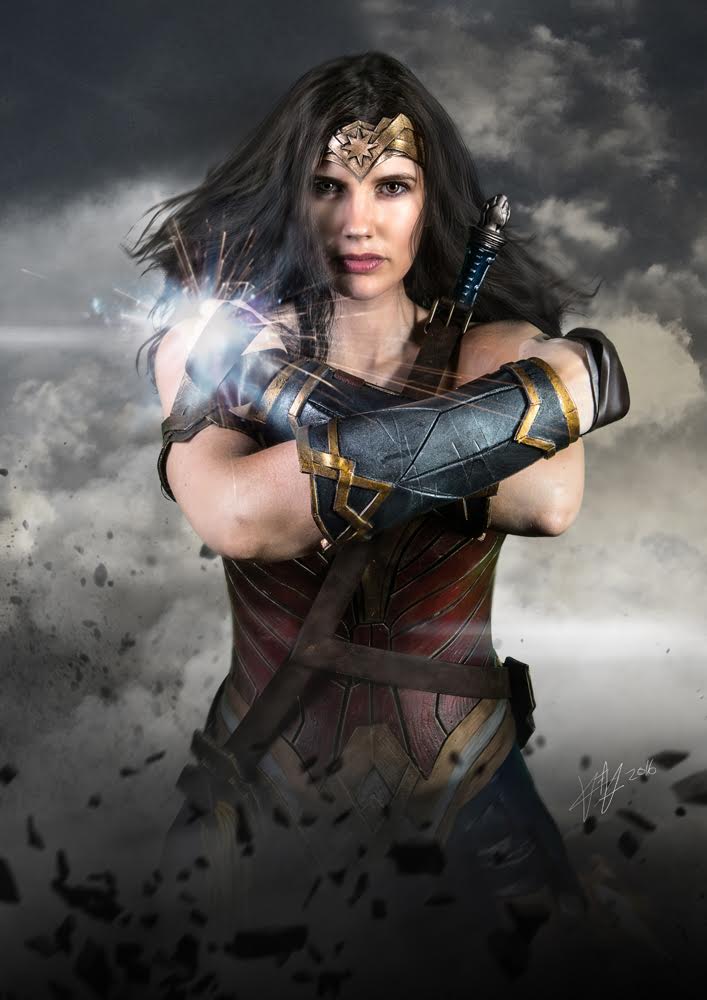 B – Have you any advice for budding SFX enthusiasts, students or cosplayers out there?
D – Study your craft. We are so lucky to have so many amazing tutorials online from very skilled artists! Anatomy is very important if you want your work to be convincing, study diagrams of bones and muscles to get an idea of the structure of your subject. Practice as much as you can and don't be afraid or put off by failure, I have had plenty of disasters with molds breaking/locking (still do) but I'd never let it stop me. Getting to know materials is key! Don't expect amazing results first time, Rome wasn't built in a day!! Collaborate with other artists and share costs…..this can make a huge difference to the size of your portfolio if you share the workload with others and learn from each other.
B – Halloween is fast approaching. Any tips for people who might be working on a costume, or handy advice to keep costs down?
D – Halloween has become much more commercial these days and there is so much more available in terms of costumes, makeup and props but for anyone who is on a budget I would say keep an eye out for some hidden gems in Euro shops etc. I just picked up a few masks from various stores in Carlow that can be pimped with a better paint job and combined to make a better prop (for example, Heatons have very good anatomically correct severed hands and feet but with a terrible paint job). Fabricating with craft foam is a very popular way of creating costumes and can be done very cheaply with amazing results, Youtube has plenty of great channels on the subject like Evil Ted and Punished Props.
B – Have you any major builds coming up to keep an eye on?
D – I have a few projects in the pipeline for next years Dublin Comic Con. Staying with the superhero theme, I'm working on General Zod and Faora Al from Man of Steel, both of which are extremely intense builds with a lot of work involved. And hopefully Groot from Guardians of the Galaxy.
B – Do you do commissions?
D – Yes I do, mainly for cosplayers and collectors but I have also made some costumes and props for local theatre groups.
B – Do you do/have workshops that people can attend? If so where can they get information?
D – Yes I have some foam fabrication workshops available in my own premises. You can find out more from the link below.
B – Where can people find out more about you and your work?
www.facebook/EvilChimpFX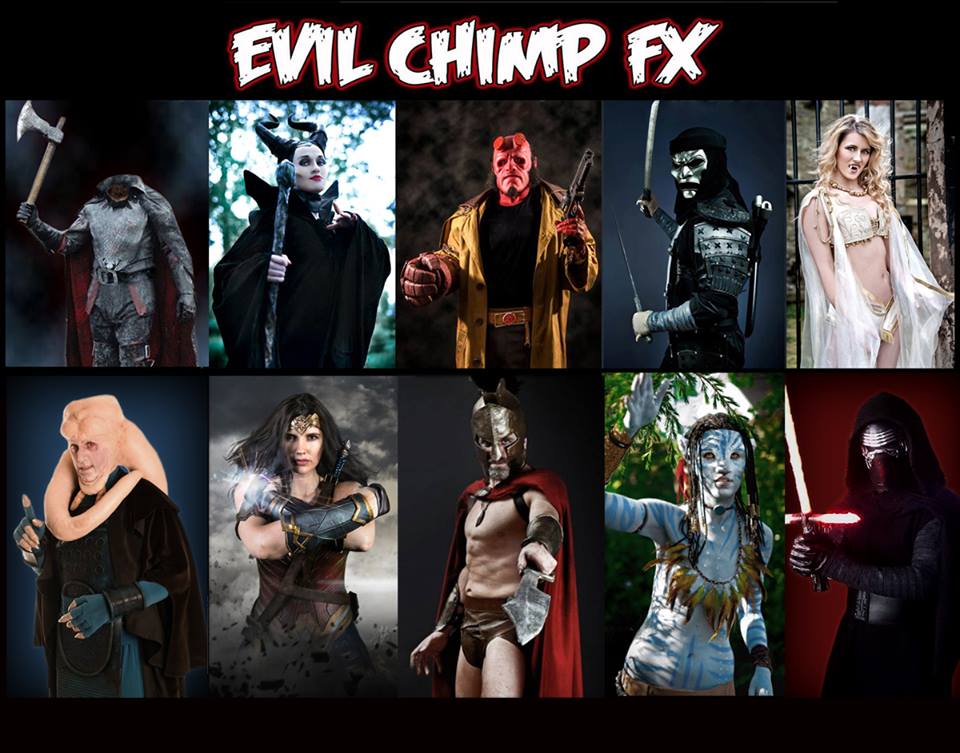 Thanks to Dave for taking the time to chat. We look forward to seeing more from you. Be sure to check out more of Dave's work on his Facebook page.
Has this inspired anyone to make their own costumes? Have you made your own props or costumes before? Why not get in contact with us and we could feature your work!