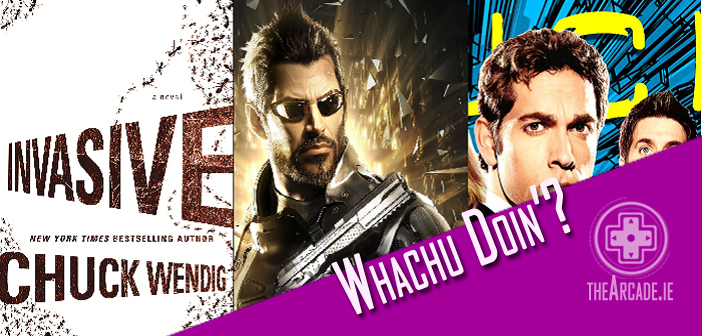 Whachu Doin' This Week… Noel?
Well, I'm going to sleep. Eat. Drink. That kind of thing. Oh. Oh you meant the interesting stuff. The fun stuff. We can talk about that too…I guess.
Well, packages arrived on my desk at work on Tuesday and Wednesday, considerably brightening my days. The first was Deus Ex: Mankind Divided on the PS4. Mostly due to time constraints, I don't game a lot any more. The last game I bought was Batman: Arkham Knight. Clearly, buying new releases is not a massively common occurence in my life anymore. But I really enjoyed the first game, and I've read a lot of good things about this one. Compulsion to play took over me. I haven't got a chance to play it yet either, so on with the maiden voyage tonight!
I waited over a year for Wednesday's package! Invasive is here guys! The wait was bad enough, without knowing it was available digitally a month ago on Amazon and the hardback was released at the same time in the States! But finally, I have my beautiful hardback copy. It's set in the same universe as Zeroes, which was easily one of my top five books last year. I can't wait to delve back into the universe, and figure out what the deal is with all those ants!  Besides it's by Chuck Wendig – of course it's going to be amazing!
There'll also be a bit of chilling in bed and watching Netflix. Probably with a fry and the electric blanket switched on. I'm rewatching the endlessly charming Chuck right now, so I'm going to carry on with that. Bromance, action, comedy, charm – I love that show so much!
Of course, no Friday night at Fort Gleeson would be complete without some of Sean Lock's comedy, so 8 out of 10 Cats does Countdown will definitely be getting a look in this weekend.
I haven't even told you guys about the most exciting part. I'm getting my NCT on Saturday! Uhm…yay?
So what about you guys? What have you got in store for the weekend? Let us know in the comments below!