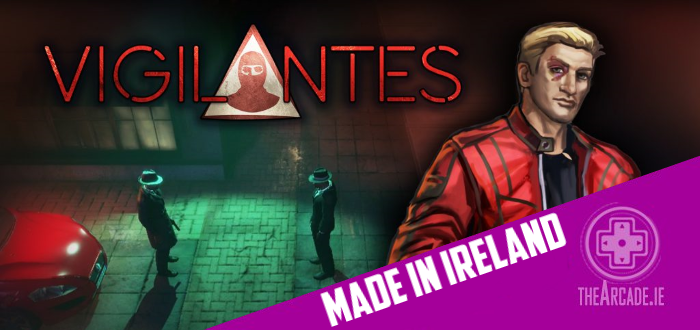 Made In Ireland – Vigilantes Kickstarter Announced
As part of a new feature on The Arcade to show case home grown talent in games development, Made In Ireland would like to kick of with a look at Vigilantes.
Vigilantes features tense tactical battles with fists, firearms and explosives, deep character development, surveillance operations, memorable allies, and a wide range of equipment to loot, buy and craft. It tells the story of Sam Contino, an idealist dragged down the rabbit hole of vigilantism, as he works to bring down the three gangs which dominate the declining city of Reiker: the mafia, paramilitary survivalists, and the Church of the Final Exodus.
Developers Timeslip Softworks have now launched a Vigilantes Kickstater and Steam Greenlight campaigns and have announced a playable demo to help make up your mind before you back the campaigns. In a press release from the developers, it states:
"Timeslip Softworks is pleased to announce the release of a preview demo and trailer to support its upcoming Kickstarter and Greeenlight campaigns for Vigilantes: an old school, crime themed, turn based tactical RPG for PC.
Vigilantes features a fresh, neo noir setting, tense tactical battles against three distinct gangs, deep character development, and a carefully crafted, gritty atmosphere. Vigilantes has been in full time development for more than 22 months, and the current preview demo is the result of more than 4,000 hours of development."
Along with a host of rewards for backing the game on Kickstarter, Vigilantes promises to have all the features you would expect from a turn based RPG, yet they feel it stands out from its peers in a number of areas:
Avoids typical RPG settings, striking out in its own direction with gritty, neo noir.
Melee combat is choreographed and fluid to an extent rarely seen in turn based games.
Avoids the trend of simplifying character systems and gameplay. It's very much old school, with the best of modern design advances.
Emphasis on atmosphere: memorable allies, deadly opponents, a declining city, all brought to life through quality writing, artwork and voice acting.
Use surveillance to locate gang facilities and leadership. Randomly attacking footsoldiers won't get you anywhere.
For more information check out Timeslip Softworks on their website, Facebook, Twitter or YouTube channel, check out the demo for Vigilantes or head on over to back Vigilantes Kickstarter or Greenlight campaigns.
Do you know of any other games in development from other Irish companies? Are you a developer yourself or have a project you want to highlight? Why not get in touch with us!