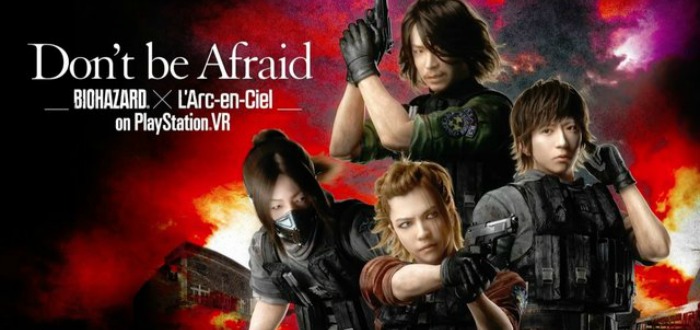 CAPCOM Announce L'Arc-En-Ciel Resident Evil PSVR Music Video
Game developer CAPCOM and J-rock band L'Arc-En-Ciel are collaborating to develop a 3D VR music video for the band's latest hit song 'Don't be Afraid'.
Sony revealed the collaboration during it's PlayStation press conference on Tuesday. This year marks the 20th anniversary of CAPCOM's Resident Evil games, known as Biohazard in Japan. L'Arc-En-Ciel are also celebrating this year, it's their 25th anniversary!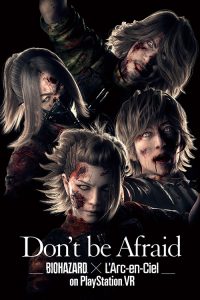 L'Arc-En-Ciel are no strangers to the videogame world. In 2000, the band featured in the Japan exclusive sequel to Toma Runner. The racing game, Gekitotsu Toma L'Arc: TomaRunner vs L'Arc-en-Ciel, included the band as playable characters. The members also voiced themselves, and 5 of their songs featured in the game. They've also provided songs for a few anime shows and movies, such as Final Fantasy: Spirits Within and Fullmetal Alchemist.
During the Playstation press conference, the Resident Evil gameplay was showcased. Afterwards, a video was shown of the 3D scanning process, with Hyde, Tetsuya, Ken, and Yukihiro pulling faces in front of a multi-cam set up. They've been transformed into 3D digital characters for the video. There is an incredible amount of detail in the digital versions of the band. There have also been hints that the music video will include the members fighting off zombies. The setting will be 'L'Arc-coon-City', a play on the band's name and the famous town from the Resident Evil series.
https://www.youtube.com/watch?v=F5qd5bLNZXQ
Release Date
A preview of the video will be available on October 13th, according to L'Arc-En-Ciel's website. The full release is set for mid-November through the Playstation Store, and it can be watched through Sony's Playstation VR headset. Users will be able to change their point of view in particular scenes.
Resident Evil VII: Biohazard hits the shelves on January 24th, 2017.
Excited about the music video preview? Let us know in the comments!