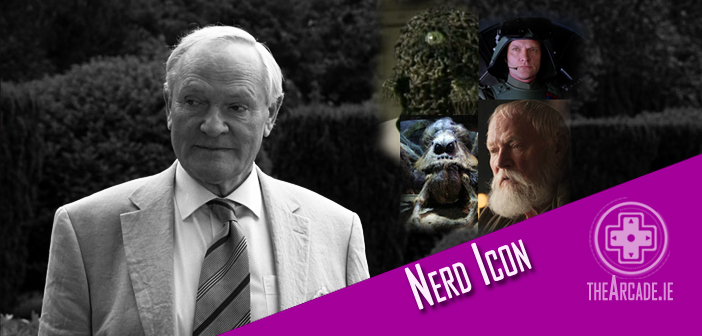 Nerd Icon – Julian Glover
In 2013 Julian Glover received a CBE in the Queen's Birthday's Honour's List. I don't think that's enough. Julian Glover should be literally crowned King of All Nerdingom. With a career spanning five decades he's a much love and respected actor. Instead of being associated with one character or series, he has left his mark more iconic franchises than any other actor I can think of.
Born in Bristol in 1935, he performed with the Royal Shakespeare Company in his youth before becoming a regular character actor on British television. From there he was cast in villainous roles in a variety of major film franchises. In all his performances, be it TV or film, he brings a great level of sincerity and warmth about him which somehow manages to make his bad guy persona even more menacing.
Beginning With The Doctor
One of his first ever television performances was in Doctor Who. 'The Crusades' featured The Doctor and his companions caught in the middle of the Third Crusade in Palestine. Julian Glover plays King Richard I aka Richard the Lionheart. His performance as the famous monarch is fantastic. Unpleasant, bullying yet committed to his duty, it's a far cry from the hero-worship usually associated with the twelfth century king. Glover went on to be in other cult classics such as Space 1999, Blake's 7 and four episodes of The Avengers.
Return To The Whoniverse
He also made an occasional film appearance, most memorably in Hammer's excellent film adaptation of Nigel Kneale's Quatermass and the Pit before being cast as the big bad in another Doctor Who serial. 'City of Death' is considered to be one of the greatest ever adventures featuring the extraordinary talents of Tom Baker and Douglas Adams at their peak. Glover plays Count Scarlioni, a sinister fiend living in Paris who seems to be planning the greatest of all art thefts. However his nefarious scheme goes much deeper with plans to distort time and destroy the entire human race. Glover is once again excellent, providing a worthy adversary for The Doctor and definitely the best of all the once off villains in the show's history.
From Who To Wars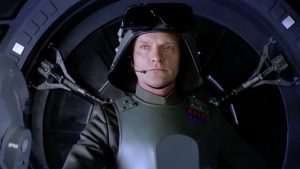 Julian Glover's success on TV eventually led to more film appearances, three of which were prominent roles in major motion pictures. The first is a comparatively small role but with the benefit of being a Star Wars movie. In The Empire Strikes Back Glover plays the Imperial military general Maximilian Veers. He's the officer on the front line when the AT-AT's stormed the rebel stronghold on the frozen planet of Hoth. Glover only appears briefly but has enough screen time and dialogue to make a lasting impact. While it would have been nice to see him in future films, Glover's charisma was enough to have him cast as arguably the most coveted role in all movie villainy.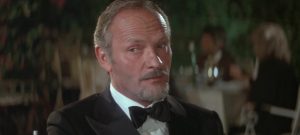 For Your Eyes Only is the 12th James Bond movie and a rather important one. This movie mas made to undo the damage made by Moonraker and bring Bond back to Earth. No gadgets or fancy cars, just a hero and his wits. For this to work a believable villain was required. Someone with depth and verisimilitude and not just a beard stroking baddie. Who better than Julian Glover to play Aristotle Kristatos. A Greek heroin smuggler in league with the Soviet Union, helping them retrieve a decoding system to sabotage British nuclear submarines.
Glover underplays the role and in doing so makes his villain one of the best in the entire series. He's stylish, soft spoken and as sinister as all get out.
Bad To Worse But In A Good Way!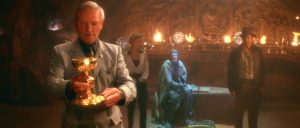 Having now been in a Star Wars movie and a James Bond movie, there creative worlds would collide for the actor. Julian Glover would star alongside Ford and Connery in Spielberg's Indiana Jones and the Last Crusade.
Walter Donovan, a rich American businessman and history buff, is in league with the Nazi party. Their common quest; to find the Holy Grail and thus eternal life. This is perhaps Julian Glover's best performance. As a Nazi collaborator Donovan retains a level of humanity and perspective which only an actor of Glover's calibre can bring.
Glover himself said this was the most satisfying role he's ever played on film. "I thought he was a completely different rounded character. I could see were he was going…When playing villains you have to find a reason to be someone. Hitler didn't think he was a villain. He was one of course. I have to find the man of Walter Donovan, and of course the thing that drives Walter Donovan, is finding the possibility of finding the secret of eternal youth, eternal life… what would you do, if you had the chance of having eternal life? That's quite a question. Where would you draw the line".
Villainy As Artform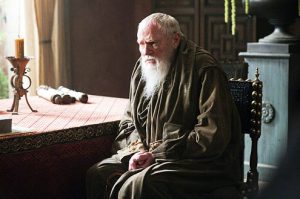 Julian Glover's contribution to nerd culture continued well into the next 2 decades. Remember Aragog in Harry Potter and the Chamber of Secrets? That was Mr. Glover! The underhanded, deadly and self-serving Grand Maester Pycelle? These character however offered a more likeable side to Julian Glover's repertoire. He lit up the screen in all the episodes in which he appeared. Proving that refinement and magnetism do not necessarily fade with age.
So there you have it. Doctor Who, Star Wars, James Bond, Indiana Jones and Game of Thrones. No other actor can claim to have a significant impact in all these fabulous franchises for over fifty years. When thinking of a true icon of our culture, you need to acknowledge the magnificence that is Julian Glover.