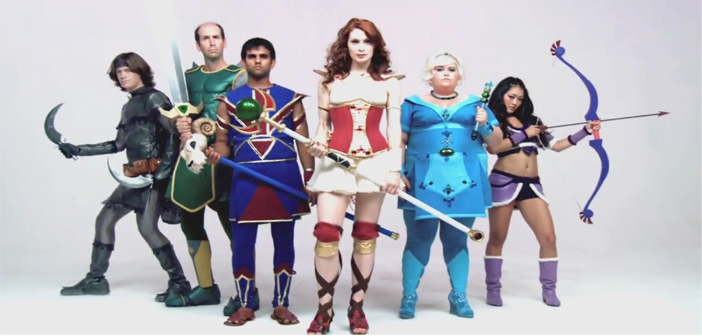 Mad Musicals You Can Watch On YouTube
It won't be a surprise if a lot of you have never heard of any of the following quirky productions but if you're a fan of alternative musicals (and Joss Whedon's musical taste!) well then maybe you'll enjoy at least one or two of them.
A Very Potter Musical
Remember Glee? Remember Kurt's love interest from a rival Glee group? No?! Well before that love interest made it to Glee, he created A Very Potter Musical for a college drama production. His name is Darren Criss.
Amazingly funny show with well written songs yet pretty silly storyline. Voldemort and Quirrel's relationship is the best thing ever and Draco is King! Have a listen to a song sample below and if you like it, give it a go here!
Dr Horrible's Sing-Along Blog
Written by Joss Whedon's brother Jed, Dr Horrible's Sing-Along Blog is the fictional documentation of Dr Horrible's quest to be accepted into the Evil League of Evil! Neil Patrick Harris plays our anti-hero with Nathan Fillion playing the pompous yet hilarious "hero" Captain Hammer and Felicia Day as the damsel-not-really-in-distress Penny.
With two of Joss's go-to favourites, you can see the family's creative resemblance. Quirky and heart-felt, with amazing songs, this simply produced 40-min musical is one to watch.
The Guild
A bit of a weird one from the afore-mentioned Whedon favourite Felicia Day, this web series got a revamp once her following caught on. Not originally a musical, The Guild is centred around Day's character Cyd Sherman AKA Codex and her band of RPG players 'The Knights of Good'. After its revamp, Day and Co released a series of music videos of originally written songs that feature in the series, including "Do You Wanna Date My Avatar" which is the backing track of the intro below! A must for avid gamers.
Jekyll and Hyde: The Musical with The Hoff!
Yes, you read right. David "The Hoff" Hasselhoff, playing BOTH roles in a musical TV film production of Dr Jekyll and Mr Hyde. OK, not gonna lie, you can give the whole thing a miss (it's 135mins!) but! Check out the below scene of 'the transformation' because he's actually pretty good!
https://www.youtube.com/watch?v=6oTI5OfHFb8
There's my mad recommendations but make sure to check out Luka's Top 5 Musical Episodes, which includes one of my favourite mad musical's, Joss Whedon's 'Once More With Feeling'! Or try musical tracks with a twist as Declan pulls out the remixed musical numbers!