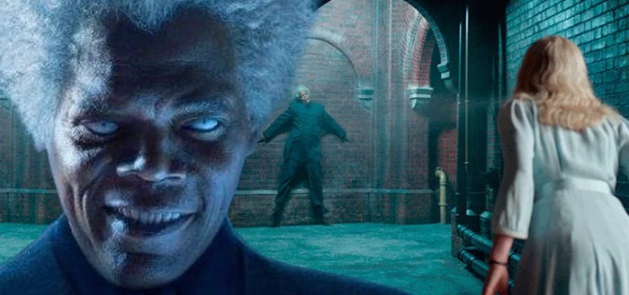 Images Of Samuel L. Jackson In Tim Burton's Miss Peregrine's Released
Samuel L. Jackson is in the new Tim Burton movie, Miss Peregrine's Home For Peculiar Children. While an odd pairing, Tim Burton fans should be pleased with the revelation as Samuel L. Jackson generally makes whatever he's in much better. I mean, what would Snakes On A Plane have been without him? Not as good. That's for sure.
Miss Peregrine's Home For Peculiar Children is about a boy named Jake who uncovers a mystery that extends into different realities and even different times. In the process, he finds a secret sanctuary for children with powers. His new world is full of danger, illusions and hidden enemies. Jake must figure out who is trustworthy and who he really is. The film is based upon the novel written by Ransom Riggs.
New stills released by Entertainment Weekly give us a close-up look at Jackson's character, Barron, as well as the abilities of the girl called Emma Bloom. Emma can control air which means that she can float up into the sky with hot air, or can make a bubble to let her breathe underwater (like Sonic?). On top of this, she also has the ability (or peculiarity) of super-breath. She can literally blow people away like Superman. The screens show us how Emma's super-breath can pin people to walls. Bad people like Barron.
The screenwriter Jane Goldman explained that: "Emma has taken on the mantle of trying to get rid of Barron or get him out of the picture long enough for Jake to finish the rescue mission they're on."
Not only does Samuel L. Jackson's presence lend a sense of prestige and weight to the film, apparently he was excellent at being scary. According to Goldman: "He never runs out of new ways of be intimidating."
What a pro. Check out the images below:
As well as Samuel L. Jackson, the cast features Eva Green, Asa Butterfield, Chris O'Dowd, Allison Janney, Rupert Everett, Terence Stamp, Ella Purnell, and Judi Dench.
Miss Peregrine's Home for Peculiar Children is out in Ireland on September 30.