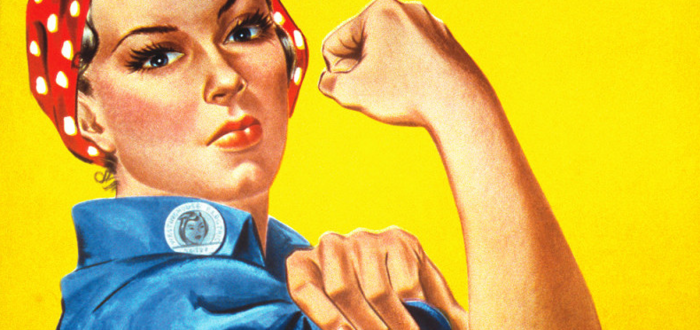 Rosie The Riveter – Style Saturday
Today's theme on The Arcade is GIRL POWER and what better icon to represent girl power than Rosie the Riveter? The 'We Can Do It!' poster and the cultural icon Rosie the Riveter (representing the American women who worked in factories and shipyards during World War II) were combined to form what we today see as Rosie.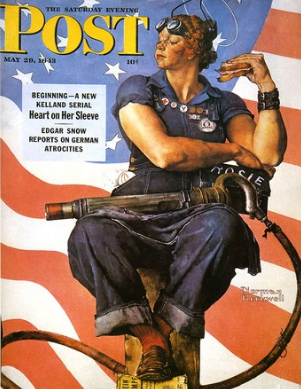 Initially an American wartime propaganda tool, 'We Can Do It!' soon evolved into something much more than that when it was adopted by the feminist movement and used to raise awareness of the fight for women's rights.
We've taken a look at Rosie's attire and we've come up with two looks (one for men and one for women!) for you to get some inspiration from.
Female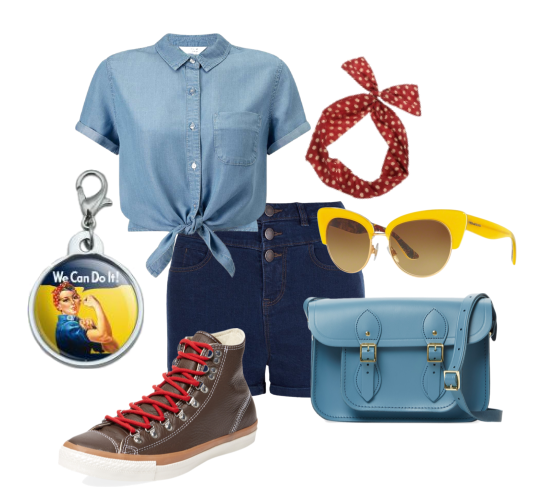 Rosie wears mostly denim in both the 'We Can Do It' poster and the famous image of her on the Saturday Evening Post (SEP). Although dungarees aren't as fashionable as they once were, you can choose dark denim overalls over the lighter denim shirt we picked out, but we decided to go for high waisted shorts instead as it's summer. The key to wearing full length denim is to make sure you pick different shades of denim – never wear a light denim shirt with light denim jeans. This isn't Saved by the Bell, folks!
We took inspiration from the 'We Can Do It' poster once again and decided on a bright yellow for the sunglasses as it breaks up the outfit nicely and it's lovely and summer. In the SEP, Rosie wears brown work boots with red socks and she has a blue satchel with the word 'ROSIE' embroidered on it. We changed things up a little and decided on brown leather converse style shoes with red laces, and a light blue satchel for your tech and makeup.
To finish off the look, pick an official Rosie themed accessory like a keyring featuring the famous 'We Can Do It!' poster and, of course, the iconic red headband with white polka dots.
Shirt €16 | Shorts €18 | Shoes €41 | Keyring €8.12 | Satchel €89 | Headband €2.27
Male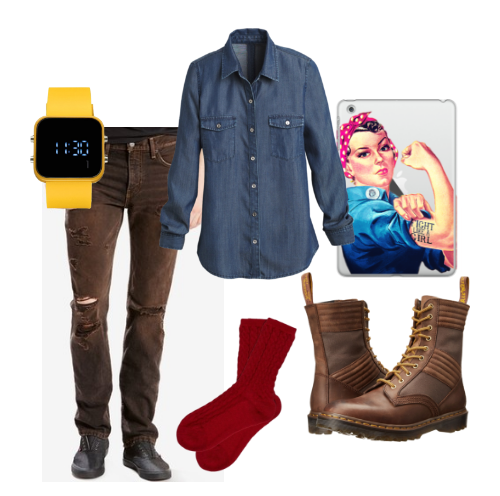 The key to a Rosie the Riveter look is comfort so make sure you go for a pair of jeans that fit well and don't fall down easily. After all, her attire was all about getting stuff done so you don't need any uncomfortable clothing. We chose brown jeans (rather than going with the all-over denim look) and paired with a loose denim shirt.
Find a pair of good leather boots that fit well and are great for walking around doing errands, like workman's boots. Buy a pair of red socks (we went for red cable socks for extra comfort) and position them so that the top of the sock pokes out over the top of the shoe just like Rosie. This is optional but if you're really committing it's great to show off the pop of red.
To finish off the look, pick some cool accessories like a yellow digital watch (which brings out the tones of the 'We Can Do It!' poster. Add a decal of the famous poster to your tablet (or phone!) as a subtle ode to the icon, and you're done!
Shirt €45 | Jeans €45 | Boots €63 | Watch €36 | Tablet Decal €36 | Socks €11
What do you think of the looks? Would you wear them? Let us know in the comments!