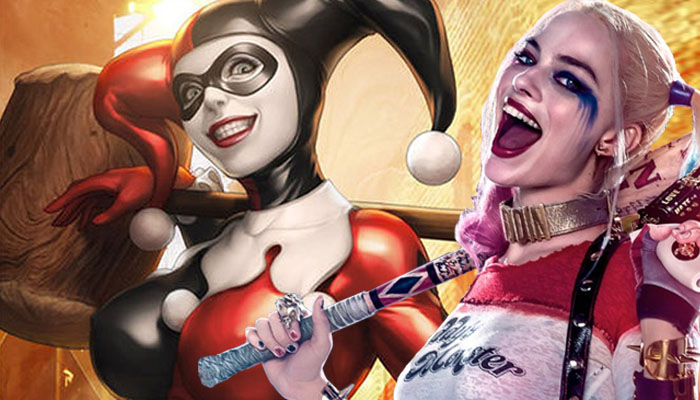 Harley Quinn Jester Actually Made For Suicide Squad
For those of you mourning Harley's iconic jester outfit we've all come to know and love, do not fret, we may still see it popping up in a scene in the forthcoming Suicide Squad movie coming out here in August!
We know for certain that Harley is sporting a brand new look in the live action movie, but what we've come to learn from Comic Book Resources is that we may see the iconic black and red jester suit pop up in a scene or two. Costume designer Kate Hawley told reporters that the jester costume was indeed created for the film itself.
"The jester suit has an amazing, powerful quality to it. We built that. We actually put it on Margot, and she looked amazing. There's a moment where there's homage to that very garment. What happens, though, and the way David works – and I'm not speaking out of turn here – and because it's a very organic quality and he's writing it as we speak, the weight of things change. There's beats that you think you can establish an arc within and then it changes again. We have limited beats to show all the elements."
"We could do a paper doll book of Harley in terms of all the facets that she can present to you. There are so many elements and depth to her character. And we built stuff for scenes that aren't here anymore, and things like that."
Suits You!
"They get given their mission outfits out of Belle Reve en route to this mission they are on. There's a delightful scene where they're all putting on their 'murderous suits,' as they call them, because when they put them on, people die. And Harley's sitting there and you'll see a moment where she's putting on all her corsets, so we quote every comic variation of her. It's her dress-up box. And I feel sure that jester suit is going to come into it because none of us can leave it alone."
Harley's new outfit, while not everyone's cup of tea, has been inspired by Debbie Harry and Courtney Love and seems to fit this new Harley and Joker we've seen pop up in trailers and the prequel comic Suicide Blonde.
Suicide Squad, directed by David Ayer, hits cinemas on August 5th and stars Margot Robbie, Will Smith, Viola Davis, Jared Leto, Cara Delevingne, Jay Hernandez, Jai Courtney, Adewale Akinnuoye-Agbaje, Joel Kinnaman, Ike Barinholtz, Karen Fukuhara and Scott Eastwood.