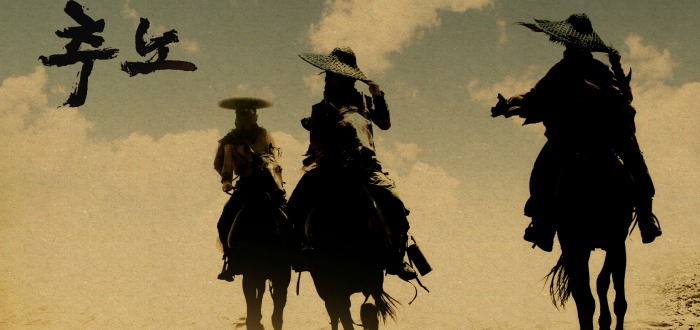 추노/The Slave Hunters Review
Since 2010, there have been many fantastic Korean dramas, but for me, not one of them has beaten The Slave Hunters. It has a phenomenal cast, a brilliant story, plenty of eye candy and will definitely make you cry your eyes out.
The Slave Hunters is set in Korea's Joseon Dynasty and revolves around the story of slaves (called 'Nobi') and slave hunters ('Chuno Ggun'). Our main character is Lee Daegil, played by Jang Hyuk. He is a relentless slave hunter who is feared throughout the country. We also meet his hunting team – Wangson (Kim JiSuk), a young, playful guy who loves the ladies and General Jang-jun Choi (Han JungSoo), a serious scholar who the ladies love.
Daegil was a noble, and has been searching for 10 years for his lost love, a slave called Un-nyun. We learn that Un-nyun and her brother, after burning down Daegil's family home, escaped and assumed a new noble identity. Un-nyun is introduced as Kim Hyewon(Lee DaHae), and we meet her just as she is to be married to a nobleman. She is under the impression that Daegil died in the fire her brother set.
We are also introduced to a limping slave called Tae-ha (Oh JiHo). Tae-ha was a high ranking military general who spent years serving Crown Prince Sohyeon in China. The crown prince and his family died under suspicious circumstances shortly after returning to Joseon, and his youngest son is exiled on Jeju island. Tae-ha was framed for stealing military rations and was demoted to a slave along with his loyal subordinates. Tae-ha escapes his masters, and goes on a mission to Jeju protect the son of the crown prince.
Un-nyun/Hyewon runs away after her wedding ceremony and is attacked on the road. She is saved by an injured Tae-ha and they begin to travel together. Daegil and his team are hired to track down Tae-ha before he can get to Jeju.
As you can imagine, it is all very tense knowing that Un-nyun and Daegil will be reunited at some point and having Tae-ha thrown into the mix makes it all the more interesting.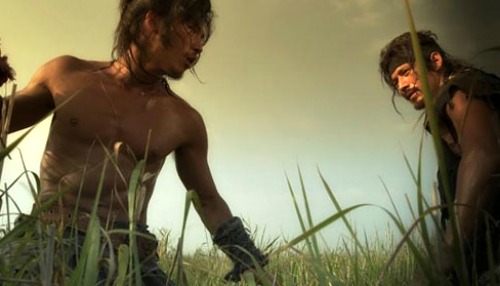 The Slave Hunters is full of beautiful scenery, amazing action scenes, gorgeous traditional Korean clothes and fantastic storytelling. We are shown the cruelty of the nobles towards their slaves, and the heartbreak and hard work involved in the life of a slave in the Joseon era. Amidst all of the main storylines, we also see the political corruption in the palace, and the slave revolt with a horrible twist. Some of the minor characters will really bring a smile to your face and their short storylines will have you reaching for the tissues. One that really got me was the short lived story of Han-seom (one of Tae-ha's men) and the maid who takes care of the little prince. Also the little prince (Kim JinWoo) is enough to make you overdose on cuteness.
Another minor character that really helps with the development of Daegil's character is Seol-Hwa (Kim Ha-Eun). She is a runaway from a dancing troupe (aka a group of prostitutes and their madam) and is taken in by our hunting team. She is a really funny character but has a lot of depth. She also has a fantastic scene in which she plays the Korean traditional instrument 'haegeum'. There are so many other characters worth mentioning, but there are just too many of them.
The Slave Hunters has ruined all other K-drama for me. It's almost flawless (the only flaw being the perfect Hollywood smile of some slaves) and even the soundtrack is gorgeous. Today marks the 10th time I've finished this 24 episode drama. Twenty four hour long episodes. I still cry each time. I definitely 100% recommend checking it out if you can get your hands on it!
What drama do you think should be next on our list to review? Let us know in the comments!