Surf's Up 2 Joins The Wave To Wrestlemania With Sequel Wavemania
A sequel to the surfing penguin adventure Surf's Up has been confirmed, and it's definitely not what you might expect. Sony and WWE have announced a partnership for Surf's Up 2: Wavemania that will see several WWE superstars voice lead characters for the movie.
John Cena, The Undertaker, Triple H, Paige and Vince McMahon will all not only provide their vocal talents but will have characters modeled after them in the film, as pictured below! Together, they will help returning hero Cory Maverick in his continuing journey to be the world's greatest surfer by showing him a secret spot to catch some killer waves.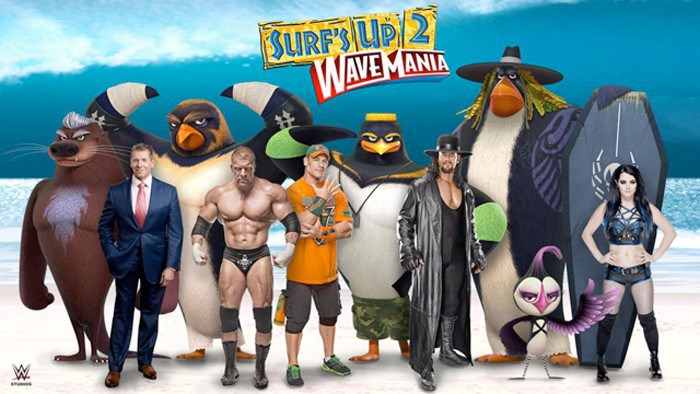 If you don't remember Surf's Up, don't be surprised – despite being nominated for an Academy Award, the movie flopped at the box office both in the US and internationally. The film was a children's mockumentary-style adventure following Cody Maverick (then voiced by Shia LaBeouf) as he competed professionally in surfing competitions. Both very funny and very well animated, the feature is one of the more under-appreciated animated films of the last decade.
No release date is certain, but Surf's up 2: Wavemania is expected sometime early 2017, for the ten year anniversary of the first movie.