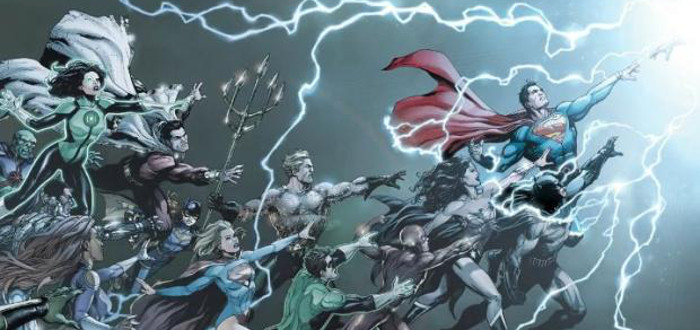 DC Rebirth Creative Teams Announced, Begins May 25
The DC Rebirth panel at WonderCon has just wrapped up, taking with it the announcement of the new DC universe pseudo-reboot, Rebirth. Presented by Dan DiDio, Jim Lee and Geoff Johns, the panel saw many of DC's writers and artists take the stage to announce and talk briefly about their respective projects.
The new line will start on May 25 with an 80-page one-shot (pictured above) written by Geoff Johns with art by Gary Frank, Ivan Reis, Phil Jimenez and Ethan Van Sciver. This book will explain what's happening to the DC universe, as well as answering the oldest mystery in DC's history, according to Johns.

DC aren't just resetting their creative teams, they're also giving their entire comics line a rejig, with the introduction of new twice-monthly books, as well as a price drop. Single issues will now retail at $2.99, one dollar cheaper than now.
Scott Snyder and Amanda Conner, of Batman and Harley Quinn fame respectively, both revealed they have signed exclusive deals with DC, meaning they will be with the publisher well into the foreseeable future.
There were a lot of creatives announced, so you can watch the event below for the complete list, or visit Den of Geek, who also the names and the first covers for several of the comics.
Some notable announcements, due for release between June and September:
All-Star Batman – Writer: Scott Snyder, Art: John Romita Jr., Jock, Sean Gordon Murphy
Batgirl – Writer: Hope Larson, Artist: Rafael Albuquerque
Batgirl And Birds Of Prey – Writer: Julie and Shawna Benson, Art: Claire Roe
Batman, now twice monthly – Writer: Tom King, Art: David Finch, Mikel Janin
Wonder Woman, now twice monthly – Writer: Greg Rucka, Art: Liam Sharp (odd issues), Nicola Scott (even issues)
New Super-Man – Writer: Gene Yang, Artist: Viktor Bogdanovich
Superwoman – Writer/Artist: Phil Jimenez
Trinity (Batman, Superman and Wonder Woman) – Writer: Franci Manapul, Art: Francis Manapul, Clay Mann
You can watch the entire event below, begins at the 30 minute mark: