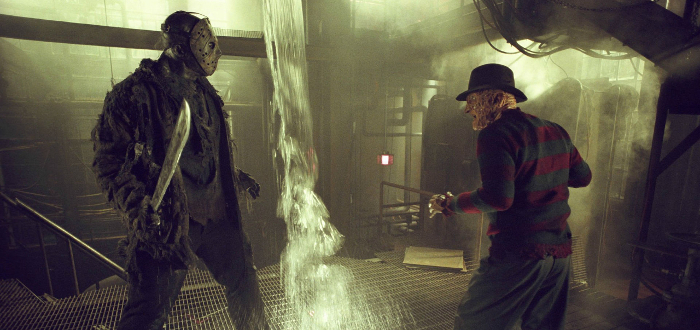 Icons Of Horror Set To Join Forces In Death House
Popular icons of horror are set to make a dramatic comeback. An upcoming production entitled Death House is promising gore, anarchy and lunacy in a premise that describes the setting as the "Area 51 of evil", according to iHorror. It is said to be an Expendables-style movie that pits legend against legend in an asylum fit for the damned.
The film stars Robert Englund (Nightmare on Elm Street), Doug Bradley (Hellraiser), Kane Hodder (Friday The 13th Part VII: The New Blood) among many others, all horror veterans. The premise is one truly befitting getting this kind of talent together. It reads:
Agents Toria Boon and Jae Novak have their own dark pasts, arriving at Death House to tour its levels and observe its denizens first-hand as well as the medical and mental experiments of Drs. Eileen Fletcher and Karen Redmane. Their depraved experiments date back to the Nazi doctors of WWII.

Prison cells are virtual reality holo decks that recreate prisoner environments before they were incarcerated. A special hallucinogenic gas keeps inmates under control. The victims are homeless, bused into Death House to play literal victims while killing habits are studied. The results are sick, but only a hint of what goes on here.

Hell literally breaks loose inside the facility when an EMP device detonates, killing all power and communication and… releasing every prisoner. Boon, Novak, and Fletcher are caught in a race against advancing prisoner hordes led by occultist Neo-Nazi Sieg. The monsters are freed, and they're going down.

Boon and Novak's fight through Death House turns into a house of horrors gauntlet; their only hope of escape is descending into Hell and enlisting the help of the Five Evils. Events culminate in a violent face-to-face standoff with absolute evil… only to find that they have traveled down a rabbit hole and through a looking glass. Black is white and white is black and the definitions of good and evil no longer apply.
We have a lot of questions, but really, what horror fan is complaining when you have a cast such as this? Expect surprise cameos and campness in equal amount! And blood, lots and lots of blood.

Directed by B. Harrison Smith, Death House isn't set for release until next year, but you can check out the iMDb page while you wait for this scintillating slobberknocker of savage proportions.