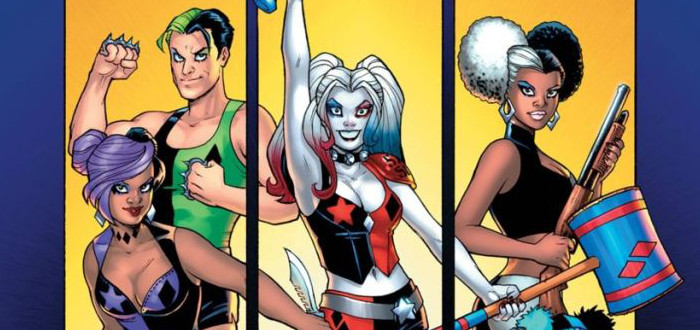 DC Announce Harley Quinn And Her Gang Of Harleys Mini-Series
Harley Quinn is getting a mini-series dedicated to her own gang of sidekicks. DC have announced, by way of ComicVine, that Harley Quinn and Her Gang of Harleys will be a six issue run that evolves directly from the Harley Quinn solo ongoing by writers Amanda Conner and Jimmy Palmiotti. It will focus on her own intrepid team, the Harleys, months into their formation as they try and track down a missing Harley Quinn.
Co-written by Palmiotti and Frank Tieri, with artwork by Mauricet and covers by Conner, the series is the third spinoff from the Harley Quinn solo book. Both the other recent spinoff, Harley Quinn and Power Girl and the recently started ongoing Harley's Little Black Book have done quite well sales wise, with the first issue of Little Black Book cracking the top 10 in single issue sales for the month of December.
The official DC solicitation for issue one reads:
Straight from the pages of Harley Quinn comes the story of her strange new army of assistants, the Gang of Harleys! In this new miniseries, they've been on the job for just a few months, and the Gang is ready to stand up and show what they can do without Harley…and they just might have to, because Harley's been kidnapped! The Gang's homes, their loved ones—they're all in danger from a strange new villain with a very personal grudge against Harley!
Harley Quinn and Her Gang of Harleys #1 is expected April 2016.