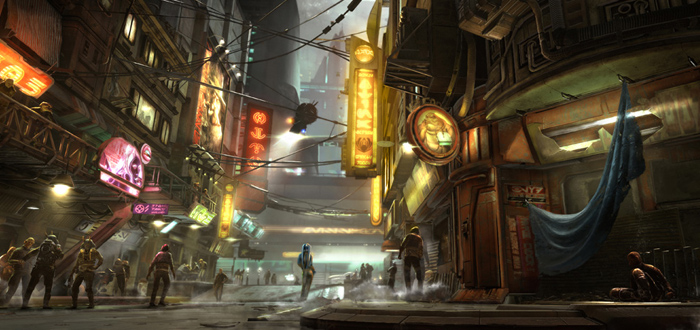 Lucasfilm Still "Looking At" Live Action Star Wars TV Series And 1313
Back in a pre-Disney Star Wars universe there was talk of the mythical Star Wars Live Action TV Show finally beginning production. With the maker himself George Lucas at the helm of the series it seemed to be a daring new frontier for Star Wars to expand into. The show, Star Wars: Underworld, was rumoured to be a dark crime piece set between episodes III and IV, highlighting just how wretched a hive of villainy Coruscant's underworld was (probably putting Mos Eisley to shame).
Not only that, Lucasarts were exciting legions of fans with the gameplay footage of the now lost gem Star Wars 1313, which saw a gritty take on the seedy underbelly of Coruscant in a style not too distinct from Naughty Dog's Uncharted. But in an instant all these projects and fan hopes were snuffed out in an instant. When Disney acquired Lucasfilm in 2012 they put an indefinite halt to each and every project in the works. Change is never smooth and many fans (myself included) lamented the loss of exciting new adventures, particularly 1313.
But that may change! In a recent interview with Slashfilm.com, Producer and head of Lucasfilm Kathleen Kennedy revealed that they were reviewing the 100 scripts already penned by Lucas and his team for his Live Action Project. The epic plans of Lucas were not just collecting dust on shelves it seems.
"No. No, interestingly enough, that's an area we've spent a lot of time, reading through the material that he developed is something we very much would like to explore."
Not only that, Kennedy made direct mention of 1313, reigniting our hopes for an M rated Star Wars game where instead of lightsabers, its blasters. She remarked on the game that :
"So our attitude is, we don't want to throw any of that stuff away. It's gold. And it's something we're spending a lot of time looking at, pouring through, discussing, and we may very well develop those things further. We definitely want to."
To call these comments exciting might be an understatement. Not only is it a gratifying sign that Disney didn't can everything in development and start a brand new slate, but it gives tentative hope to fans that the new Star Wars canon may be fleshed out sooner than they think (that is if comics and books weren't your thing). Its interesting to note the attention to two properties set specifically in the gap between both trilogies. 1313 was rumoured to tell the tale of a young Boba Fett beginning to make his way in the universe, and with the Boba Fett solo film penned by Lawrence Kasdan in the not too distant future, its not crazy to suspect these two will be linked in a way not unlike Attack of the Clones and Lucasarts' Star Wars Bounty Hunter. Coupled with the fact that Uncharted game developer Amy Hennig is now on board with Disney developing an as of yet unnamed Star Wars title, we're hopeful that the signs are pointing to a resurrection of 1313 with Uncharted veteran Hennig at the helm.
With the Star Wars franchise gearing up to retake its throne as one of the most powerful forces in the universe, its not outlandish to hope the likes of the resurrected 1313 will tie into whatever becomes of what was Star Wars: Underworld; which could in turn make significant links to the upcoming anthology film Rogue One. With all of these tales set in the same time period, we can dare to hope.
Are you as ecstatic as we are to hear 1313 may rise from the ashes? Do you think a Live Action Star Wars show could take the small screen by storm? Let us know in the comments below!
If you're scratching your head at what has people so excited over 1313, take a look!