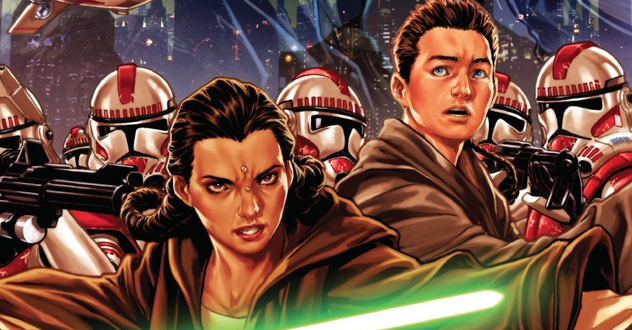 Back Issues: Star Wars Special
With The Force Awakens just around the corner (although it feels like I'm waiting an eternity), I thought I'd discuss some of the great comics that have taken place in the Star Wars world. If you're a fan of the movies, comics are a great way to continue immersing yourself in settings featuring some of the franchise's best characters and storylines (as well as some great new ones).
There's something for everyone, whether you enjoy flicking through a story featuring a strong female character, a big hairy gentle giant or a diverse cast of old and new. So take a gander at my recommendations below and see what tickles your fancy!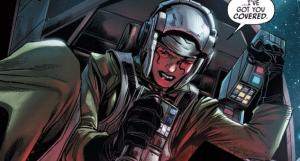 Part of the Journey to 'Star Wars: The Force Awakens' series of sponsored books and comics, Shattered Empire is what every comic should strive to be like; action-packed, beautifully drawn and well written with a great story. My copy of issue 3 unfortunately fell prey to the debris at the bottom of my bag which resulted in a few dog-eared pages (much to my dismay), but it's part of an ongoing series that I've re-read more than once since it started.
It's set after the demise of Darth Vader and the Emperor, when everyone thinks that the Empire has been destroyed and that they've won. Technically, they did, but Imperial forces remain intact and are still willing to do evil bidding. The story follows Lieutenant Shara Bey and her husband, Sergeant Kes Dameron, who are rebels with the Alliance. Dameron is under the command of General Han Solo and he has been deployed with his commando group, the Pathfinders, to fight against the 'shattered' Empire.
While he is off fighting troopers, Bey is assigned as pilot and escort for Princess Leia so that they can try to find allies for the New Republic. The series is ideal for anyone looking for a story spanning a few different perspectives with engaging characters who kick Empire butt.
It has great themes throughout, and I really enjoyed how it portrayed the difficulties that individual soldiers face during war time, particularly when it comes to family and romance.
Kanan: The Last Padawan follows a former Jedi called Kanan Jarrus, who spent many years hiding his Force powers and his lightsaber while fighting with clusters of Rebels against the Emperor and his Imperial forces. Not even his companions know about his Jedi past, when he was once a young padawan called Caleb Dume. He fought in the Clone Wars under his master, Depa Billaba, who is one of the most intriguing and likeable Jedi masters of all time (in my opinion anyway!).
Caleb, who is surprisingly similar to a young Anakin Skywalker in regards to his mannerisms and attitude (although he's a lot less whiny!), is very protective of his master's reputation and he respects her totally. However, he constantly asks questions. This gives way to some great, intimate scenes between master and padawan which are always some of my favourite scenes throughout Star Wars-based comics.
Keep an eye out for our latest Comicphiles video as I'll be talking about this series more in-depth!
In case you thought a comic starring a protagonist that speaks in a series of
roars and whines was going to bomb hard, think again. Chewbacca is very well written with stunning scenes, particularly one which consists almost entirely of tones of purple and green.
Although Han and Chewie set the standard for human and beast bromances, everyone's favourite Wookie and the other main character, Zarro, make a great twosome as well. The story is both well-crafted and heart warming, and Chewie and Zarro's interactions are reminiscent of Groot and Rocket Raccoon of Guardians of the Galaxy fame, though Zarro isn't as crazy as Rocket, and she's a lot more appreciative when someone offers help.
The story is set after the Death Star has been destroyed and The Battle of Yavin is well under-way, but our Wookie hero has embarked on a very secret mission which gets sidetracked when his crappy spacecraft crash lands on a random planet, Andelm-4. His fate ends up intertwined with that of Zarro, who is seeking to end the slavery of her people.
Star Wars: Princess Leia is a fantastic way to segway into Star Wars comics. In my view, there should be way more titles where women are the protagonist; I've loved this series to no end and wish there were more issues to come after the fifth in this mini-series.
Unfortunately, I've finished the series and it ended all too soon, but it's better to leave on a high streak I suppose. Plus, after The Force Awakens premieres and the Star Wars franchise is well and truly rejuvenated, we'll likely see her starring in another series, probably as a much-older version of herself, which would be intriguing.
The story is about Princess Leia along with her pilot, escort and companion, Evaan, as she heads on a mission to save and preserve what is left of Alderaanian culture. The series shows Leia in a more flawed light and delves into her character in a way that really exposes her, which is great for any fans wanting to know more about why she does what she does.
The pacing is excellent and the side-characters are memorable, as well as some fantastic colouring from the ever-brilliant Jordie Bellaire. You couldn't ask for much more from a mini-series!
Lando and Star Wars Darth Vader: Vader are both fantastic Star Wars series that you should definitely check out if you want to read as much as you can before the new movie is released. Both reveal the complexities of their characters in new and exciting ways, with truly gorgeous art in Vader.
What Star Wars comics have you read recently? Any of the above? Let us know in the comments!