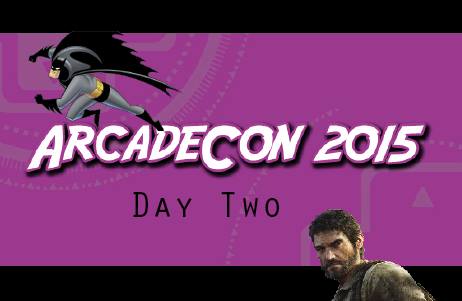 ArcadeCon Day 2 – And Now For The Main Event!
Recovered from your busy first day? Still a little hot under the collar from the cabaret last night? Either way, there's so much more to do today! The big guns are being broken out with all of our celebrity guest panels, staff panels, game demos and the Black and Gold Ball! There's something for everyone so let's dive in and have a look at what's going on.


The celebrity panels in the Ballroom kicks off with Kamui Cosplay, at 12 noon; an absolute must for all cosplay enthusiasts. Voice acting heart-throb, Troy Baker is next up. His panel promises to be a packed event so make sure you get down early in order to get a seat, and after a quick hour break Baker will be following the panel with a signing session at 4pm.


For those who are feeling a little more musically inclined, we have Professor Elemental, the vintage 'chap hop' extraordinaire who will be hosting a panel in the Conference Room on the 2nd Floor at 1pm. At 4pm, astrophysicist and Mars One candidate, Joseph Roche, will be speaking about the real world science of superheroes in the Conference Room, and at 1pm in Panel Room 1, our writer Diarmuid O'Neill will be hosting Exploring DragonAge, a panel looking at the world of BioWare's DragonAge games, something all RPG enthusiasts should get down to. There will also be cosplay workshops running throughout the day hosted by our talented writers and cosplayers.



Both the Games Room and the Cards and Dice room will be running tournaments all day, from Magic The Gathering drafts, to Mortal Kombat X, to Hearthstone. Just remember that some of the tournaments require sign ups so head down to the respective rooms and get your name down to show off your skills!
Once you're all paneled out with your shopping done, it's time to get done up to the nines and hit the dancefloor for the Black and Gold Ball. Popgun Warfare will be providing the musical entertainment for the first portion of the ball; with their ska-influenced blend of alt rock, they're sure to bring a bit of groove to the evening. Afterwards you'll hear everything from rock, pop, techno, k-pop and everything in between.


As always, don't forget to stop by The Arcade.ie's desk (now moved to the first floor) for any questions you have or even just to say hi!