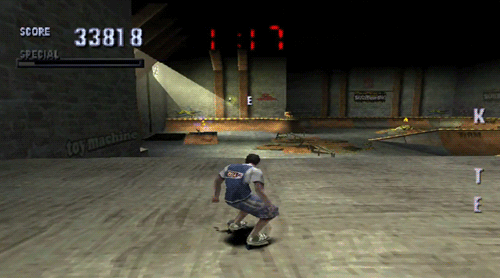 Everyone has extremely fond memories of the games they played as a child. It's only when you go back to them as an adult that certain aspects…might not hold up, to put it lightly. To put it less lightly, the games we loved as bairns usually suck when you play them as an adult because kids are a bit dumb and don't really know what a good game is. I, of course, am the exception to the rule, because my childhood consisted of Pokémon and Tony Hawk, and if you try to claim either of those don't hold up today I'll fight you.
**Editorial note from Declan – Ross is a total wimp and we can all beat him up later!**
We're gonna be talking about the latter today, since the Tony Hawk soundtracks have shaped my music taste well into adulthood, giving me a love of fast, cheesy punk that I'll shamelessly sing along to no matter what (actually, I think I've seen around six of the bands featured on the soundtracks live, and they've all been awesome gigs).
Without further ado, here are my seven favourite song from the series!
"All My Best Friends Are Metalheads" – Less Than Jake (Tony Hawk's Pro Skater 4)

A double-whammy of childhood nostalgia here, since this was also featured on the soundtrack to the Digimon movie. Upbeat, fast ska-punk with an amazing bassline, this is one of the bands I've seen live before and it was hands-down one of my favourite experiences. They had another track included on Tony Hawk's Underground 2, "That's Why They Call It A Union", which is good too but doesn't outshine this classic for me. And our deputy editor Anto even makes a cameo appearance in the video, spouting his usual rant-o about how "heavy metal rules".
"Drunken Lullabies" – Flogging Molly (Tony Hawk's Pro Skater 4)

I'm a big fan of the celtic-punk genre, where bands like Dropkick Murphys and these guys take what the Pogues started and carry on the legacy of fusing raw aggression with traditional instruments. These are another band I've seen live, and it was also a brilliant show, with a hell of a good atmosphere. This song is a great example of lyrical dissonance, with its jaunty, blistering music sounding way too happy for the song's subject matter, and tackling serious subjects yet never failing to make it fun to listen to is what Flogging Molly do best.
"Separation of Church and Skate" – NOFX (Tony Hawk's Underground)

You really couldn't have a list of skateboarding songs without including one of the best skate-punk bands in the world. This song is an aggressive takedown of the gentrification of punk (which is even more relevant now with bands like All Time Low and 5 Seconds of Summer essentially being nothing more than boybands with some instruments), which is rather ironic for a band often blamed for "killing punk" by folk who don't know how to have fun. It's fast, loud and angry, and features some decent guitar work on top of that, so that's punk enough for me.
"The Boy Who Destroyed The World" – AFI (Tony Hawk's Pro Skater 3)

I'm an unabashed AFI fan, throughout all their eras and despite some of the crap they've papped out in recent years, and I'm including this one here because 1. it's a hell of a good skate-punk track and 2. it's still honestly weird to me that the band who made this song are the exact same guys who did, well…this.
"Fall Back Down" – Rancid (Tony Hawk's Underground 2)

Written following Tim Armstrong's rather messy and public divorce from Brody Dalle of The Distillers and Spinerette, instead of wallowing in anger or writing a song about how things went tits-up, Armstrong instead chose to release a song thanking his friends for being there for him and helping build him back up after it all fell apart. It's got some of Rancid's usual reggae influence and some nice solos in the song too, and always helps me whenever I'm feeling down, to remember that you can get back up with the right people around you.
"Like the Angel" – Rise Against (Tony Hawk's Underground)
https://www.youtube.com/watch?v=c5yLGm4jaiY
Possibly one of the mot political punk bands in the world right now, and certainly the biggest and most visible, Rise Against have never shied away from discussing heavy subjects in their lyrics like the aftermath of Hurricane Katrina, refugee/third world sweatshop labour or condemning anti-LGBT+ bullying, but for "Like the Angel" singer Tim McIlrath took a much more personal tack – the song was written about his daughter and how he felt he was missing on her growing up while on tour. It's a great song, with McIlrath's powerful vocals lending even more impact to the lyrics, and one of the best in that particular game, if not the series as a whole.
"Superman" – Goldfinger (Tony Hawk's Pro Skater)
https://www.youtube.com/watch?v=rUls0yuos_4
Come on, we all knew this was coming. The signature track of the series, anyone who ever played the original knows this song inside and out (or at least, the first two minutes). It's a bouncy, fun ska-punk track from a band who would later slide into straight pop-punk with songs like "Spokesman" (featured in Tony Hawk's Pro Skater 4) and no list of the best songs from the series would be complete without it.
Due to space I've had to leave out so many good tracks from the series, from the likes of Dropkick Murphys, the Bouncing Souls, Alkaline Trio, CKY, Zebrahead…the list really does go on. And if you like these tracks, I urge you to check out Teenage Bottlerocket, who're carrying the torch for this style of music withs track like "Skate or Die". Go on, dig out your classic consoles and rediscover how awesome these games are, it's a great way to spend a night.