Wesley Snipes to return as Blade?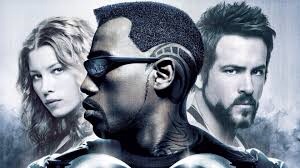 Earlier last month there was word from Wesley Snipes saying he'd like to reprise his role as Marvel's most popular Vampire hunter Blade.
Now the New York Daily News is reporting that Snipes has signed a 3 million dollar deal with Marvel for a fourth instalment of the Blade franchise. Details are very scarce at the moment with no word on a production start date or release date. Marvel Studios does now hold the rights to Blade, Ghost Rider and Punisher again. It's unclear if this fourth instalment will be a sequel or reboot. Personally though I'm hoping for a sequel, say what you will about the Blade trilogy, but it paved the way for the cinematic universe we know now.
"Yeah. Yeah. I'd be open to it. I think we have some stones left unturned, and there's some latitude for us to build on. I'd love to get back into the suit again and do some things that I've learned how to do now that I didn't know how to do then. I think we're better at making that kind of film now. Some of the things we did in the early Blade franchise were experimental, and now they have become customary in Avengers films and other comic book adaptations."
– Wesley Snipes.
Blade, the 1998 vampire thriller, earned more than $130 million and generated two sequels and even a tv show spin off.