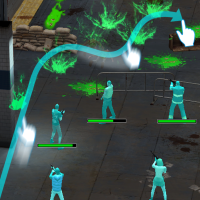 Namco-Bandai today announced the release of a Zombie Stampede, a new free to play, tower defense game that is now available on iPhone, iPad and iPod Touch. According to the developers, Zombie Stampede will throw players into a post-apocalyptic world ravaged by a virus.
Players will have to defend against wave after wave of flesh eating zombies, using a skilled party of hunters, all with their own skills, talents and destructive weapons.  In addition to the action-packed gameplay, the game offers a mix of strategy and collectability with multiple in-game commodities such as the Card Box filled with common and rare hunters and items to be added to one's game.
Players also have to be tactical in their use of the precious 'Zombie Juice' collected from slaughtered zombies on the battlefield and that helps unleash hunter skills.
This game is out now and free to download on the app store.