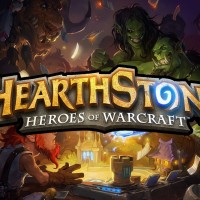 Pax East is in full swing and Blizzard finally revealed details on the first big Hearthstone expansion today, titled The Curse of Naxxramas. The expansion will include a new single-player adventure mode that takes place within a five part dungeon, up to thirty new cards and a new board layout.
The new adventure mode will see you defeat multiple AI-bosses in each wing of the dungeon. One new boss, Heigan the Unclean(pictured below), has been revealed for the Plague Quarter. Defeating these bosses will grant the player a new card per boss, with brand new legendary Baron Rivendare being the reward for completion of all five parts. There will also be nine specific class challenges, each of which will also unlock a new class-specific card.
The first wing of Curse of Naxxramas, the Arachnid Quarter, will be free for all Hearthstone users. The remaining parts will cost in-game currency or real money. Each wing will be released in weekly increments over a five week period. There are no details on launch date or availability as yet.